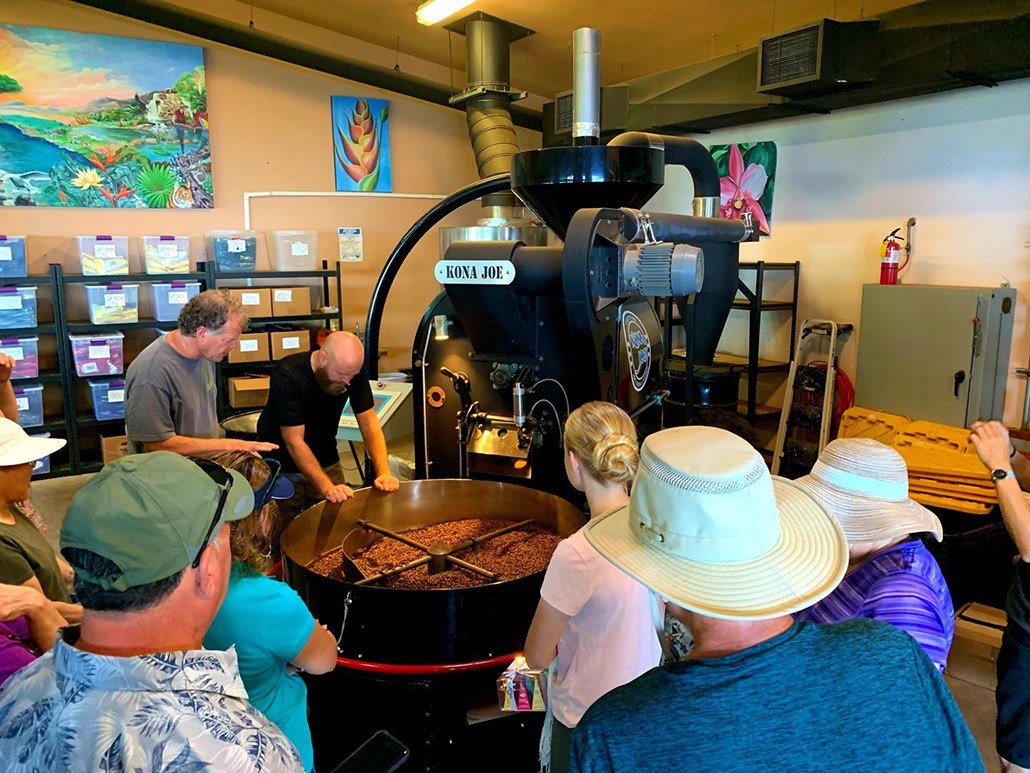 TOUR DESCRIPTION
Join us on this best of Kona adventure; the newest and most fun way to experience the best of Kona.
Length of Tour: Approximately 6 hours (8:00 AM to 2:00 PM)
Pickup Locations: All West Hawaii Hotels and Resorts
Points of Interest: Kaloko-Honokohau National Historical Park, Mountain Thunder Coffee, Kona Cloud Forest, Ola Brew Co.
About
This luxury tour is the perfect way to learn Hawaiian history, sip Kona Join us on this best of Kona adventure; the newest and most fun way to experience the best of Kona. This luxury tour is the perfect way to learn Hawaiian history, sip Kona coffee, explore an exotic cloud forest and discover Kona's tastiest beer.
In our Mercedes Sprinter mini-coaches, we'll walk the grounds of ancient fishponds, learn about Hawaiian culture and look for turtles. From there, we'll journey from the ocean to the mountains. Walk in the misty Kona Cloud Forest Sanctuary; an incredibly unique opportunity to see exotic trees, plants, flowers, and birds. The Kona Cloud Forest is a unique sanctuary of ancient Koa and Ohia trees, hundreds of varieties of bamboo and giant ferns. Bird lovers love it for exotics, including the Hawaiian hawk and several honeycreeper species. Coffee lovers rejoice as we move to Mountain Thunder Coffee! Learn how coffee is grown, dried and roasted. Wind down the mountain to cool off with a cold Kona beer or cider at Ola Brew Co. Tour Kona's newest local brewery, taste from a flight of beers and ciders, and enjoy lunch on us. Join us for the perfect half-day Kona experience today!
Gourmet Local Island Style Breakfast & Picnic Lunch included
Gourmet Local Island Style Lunch is included on the tour
Menus are seasonal and subject to change, so you'll always get the freshest local ingredients
SPECIAL INSTRUCTIONS
Lunch Menu
Gourmet lunch options include:
● Oven-roasted turkey breast sandwich on a Punalu'u Hawaiian Sweet Roll with Waipoli Butter lettuce, island-style kettle chips, and a fresh-baked white chocolate cookie.
Please note dietary restrictions.
*Vegetarian and vegan options available.
What Kailani Tours Hawaii Provides: English-speaking driver/guide, Mercedes 15 passenger mini coach, gourmet island-style lunch, umbrellas and jackets in the event of rain, premium snacks, hot or cold towel service, bottled water, various fruit juices, and hot beverage service. This tour has a maximum of 13 passengers to provide plenty of headroom in the cabin and comes with a state-of-the-art audio/visual public address system.
What to Bring: Sunscreen, sunglasses, a camera, and a hat (optional). We recommend bringing a small backpack or tote bag for your personal items as there is plenty of room in our spacious cabin.
What to Wear: Although Hawaii is home to the endless summer, there are places and times where the temperature can drop so a light jacket or sweatshirt is recommended. Walking shorts, comfortable shoes, a hat, and sunglasses are recommended. Sunscreen and/or bug-spray should be applied before joining the tour.
Recommendations: This tour is for guests 5 years and older. It does not include lengthy hikes. Passengers traveling with a wheelchair or walker are more than welcome to join our tour. Kailani Tours Hawaii's spacious Mercedes passenger vans provide the ultimate in comfort for guests hoping to avoid large 50 passenger vans and want a more personal and authentic Hawaiian Experience. All Kailani Tours experiences are designed to give our guests an affordable first-class tour while experiencing all that the Big Island has to offer!