Encounter Hawaiian Marine Life
Experience the beauty of Hawaii up close on this exciting morning rafting & snorkeling tour. From the moment you board your boat you'll be immersed in a world filled with an abundance of vibrant marine life.
Explore some of Kona's most stunning bays and coves by leisurely swimming among colorful coral reefs. With knowledgeable guides pointing out interesting facts about the local wildlife along the way, it's easy to become enthralled by these amazing creatures that inhabit Hawaii's reefs. Whether you're looking for an exciting adventure or simply want to relax in nature's embrace - this engaging morning excursion is sure to leave you with lasting memories!
Kailua-Kona, Big Island, Hawaii
All your snorkeling gear included
Guided snorkeling with knowledgeable crew members
Snacks, breakfast, picnic lunch & sunscreen are included, water & soft drinks
Extraordinary Morning Rafting
&

Snorkeling Features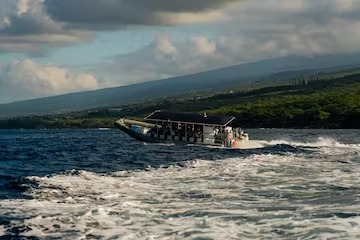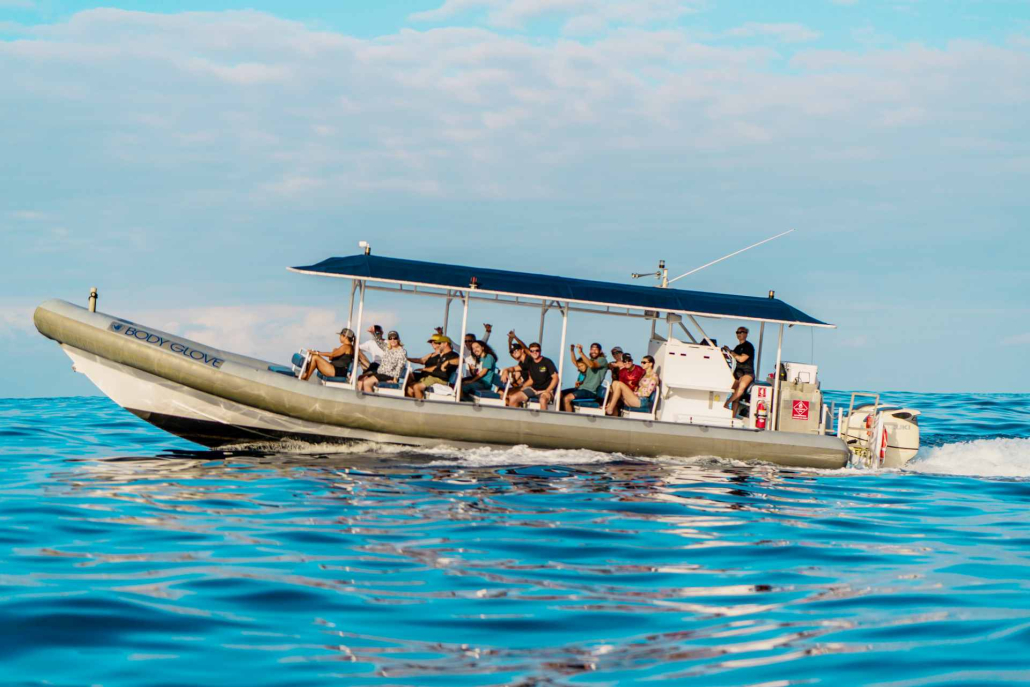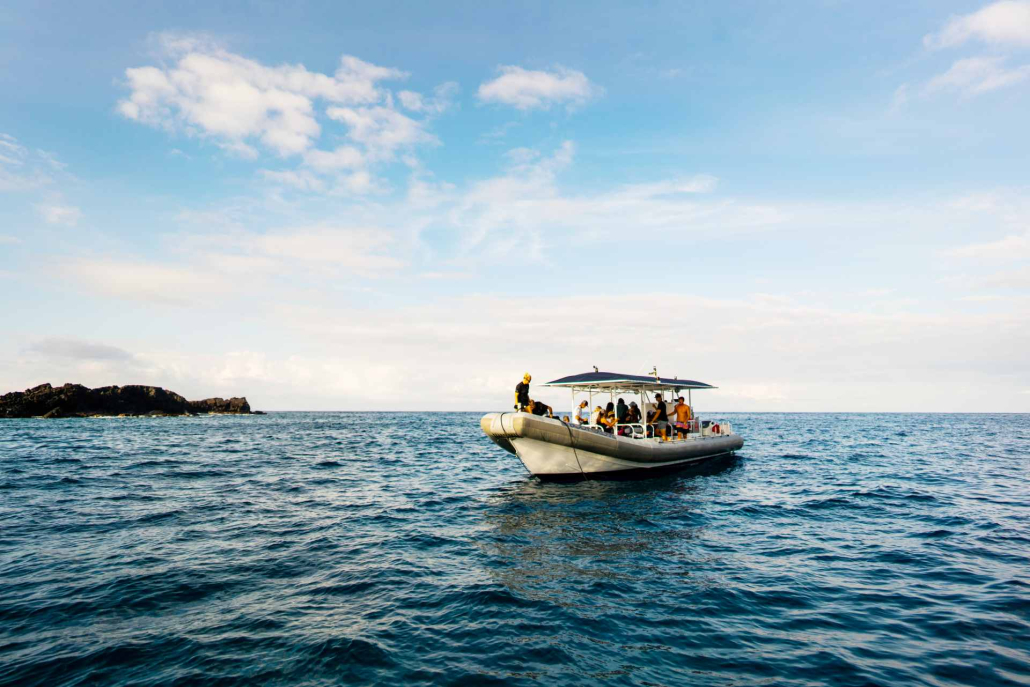 The Kona Explorer super-raft is an impressive 41 feet long and provides the perfect base for a fantastic day of adventure. Packed with comfortable bench seating, ample shade, and a restroom for convenience, this vessel will ensure that you are able to enjoy your experience to the fullest. With two powerful Suzuki 350 engines providing propulsion for fast and reliable speeds, this boat is able to reach more out-of-the-way snorkel sites than other boats. To top it off, every seat on board also doubles as storage for your belongings, so you don't have to worry about leaving anything behind.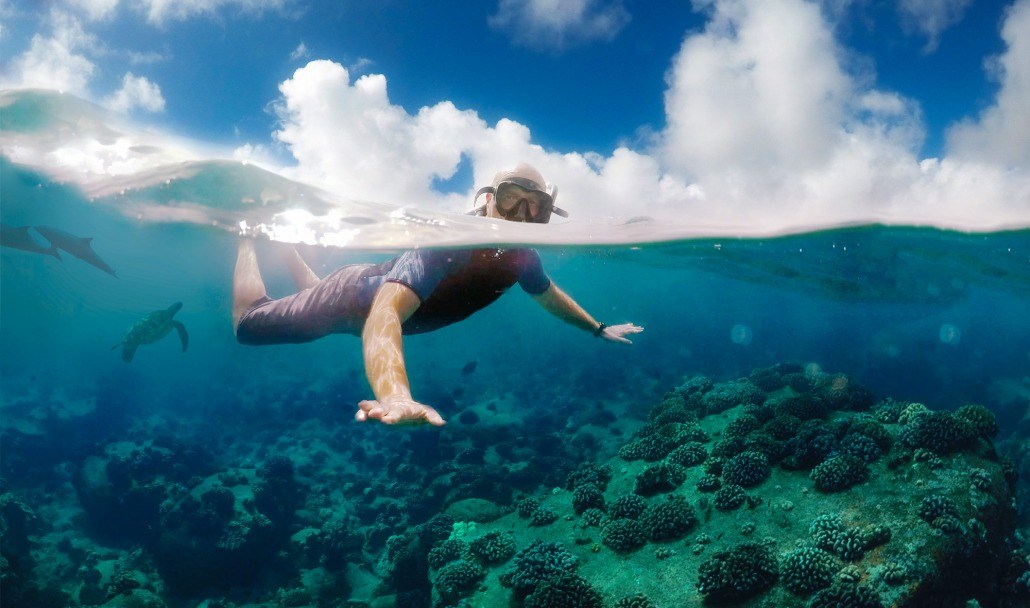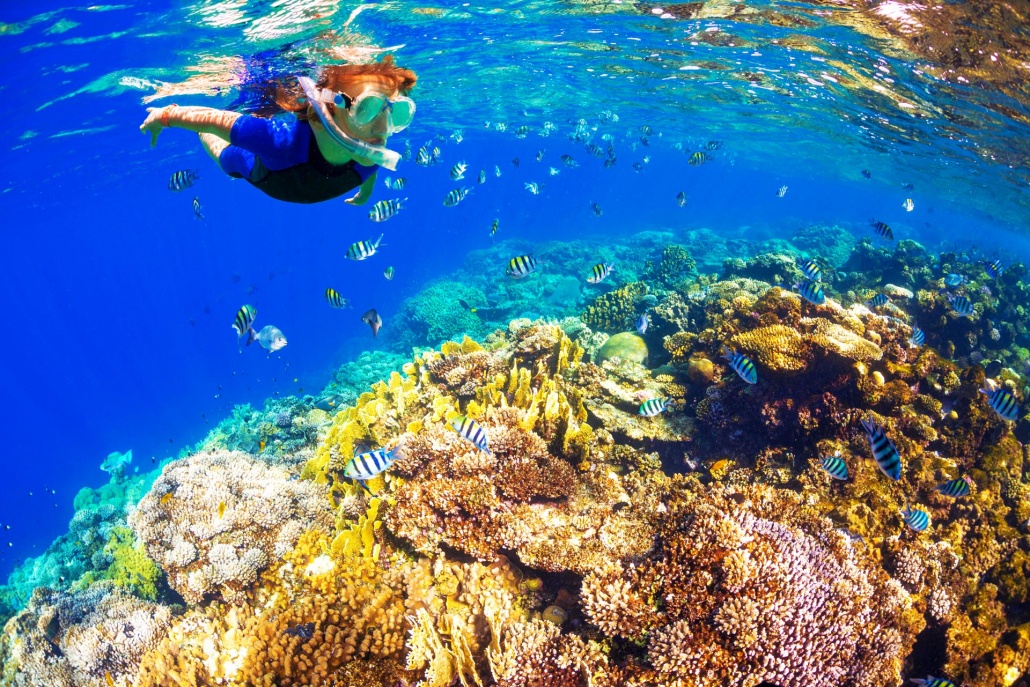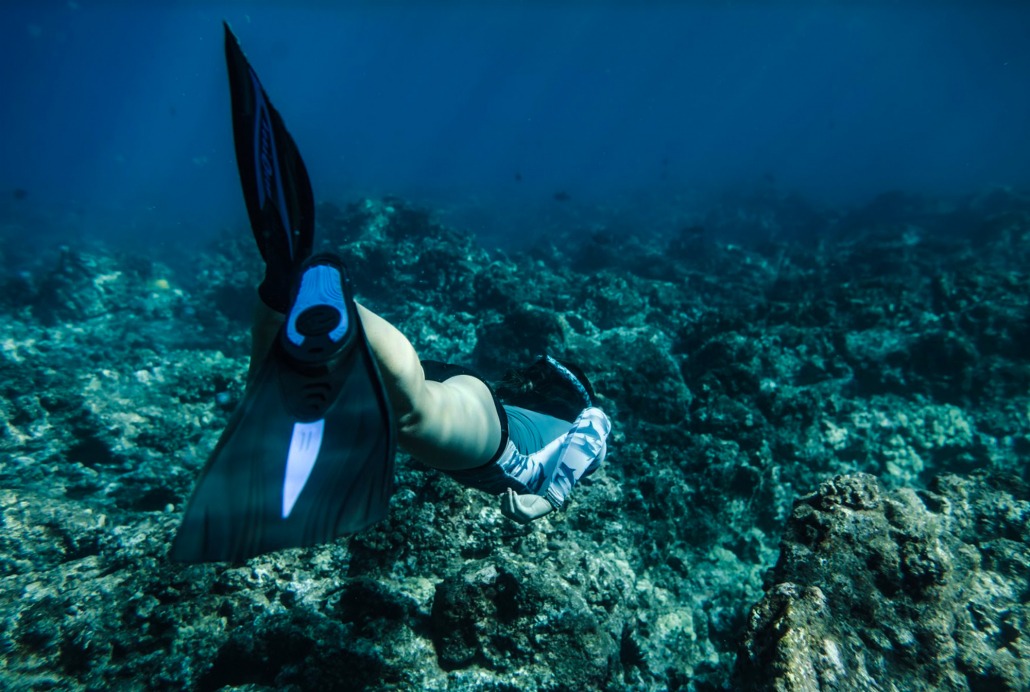 Snorkeling in Kona, Hawaii is a truly unforgettable experience. Located on the Big Island's western coast, Kona's warm waters are teeming with an incredible variety of marine life. From colorful fish and coral to sea turtles and dolphins, snorkelers can observe these amazing creatures up close from both above and below the water's surface. The crystal-clear visibility makes it easy to spot tropical fish swimming around you like neon streaks of color! Whether you're a novice or an experienced snorkeler, exploring the world beneath the waves of Kona is sure to be one of the highlights of your trip.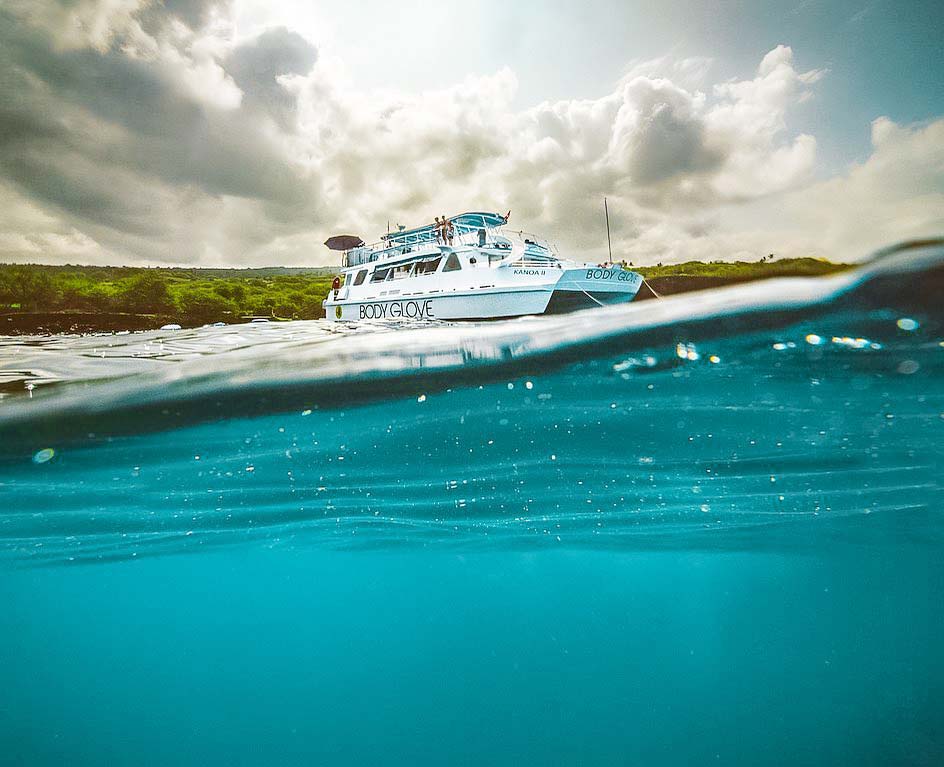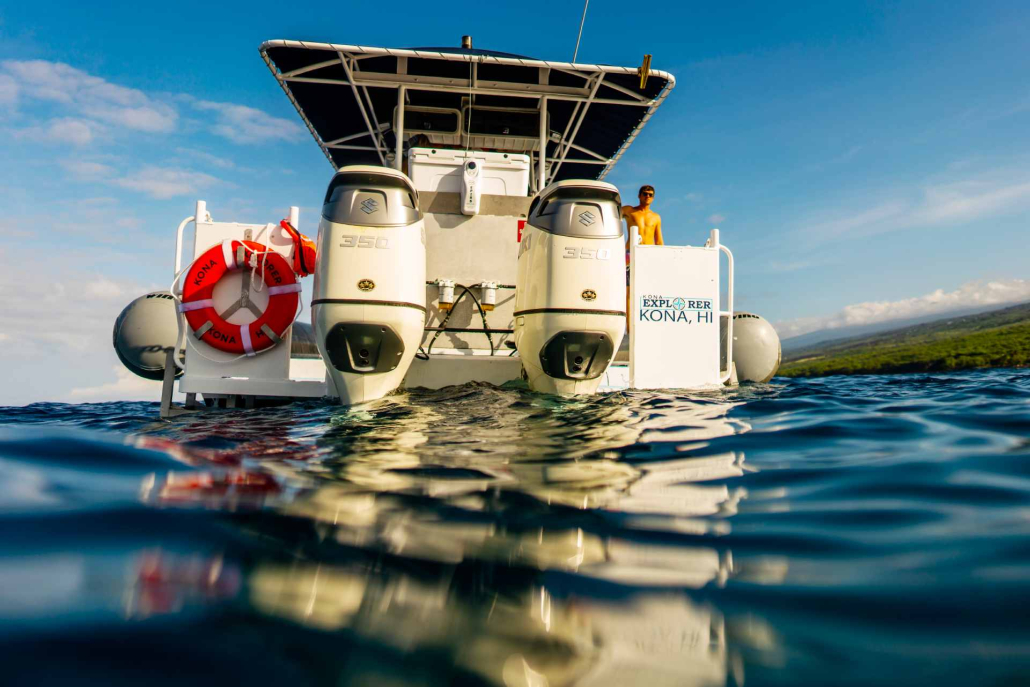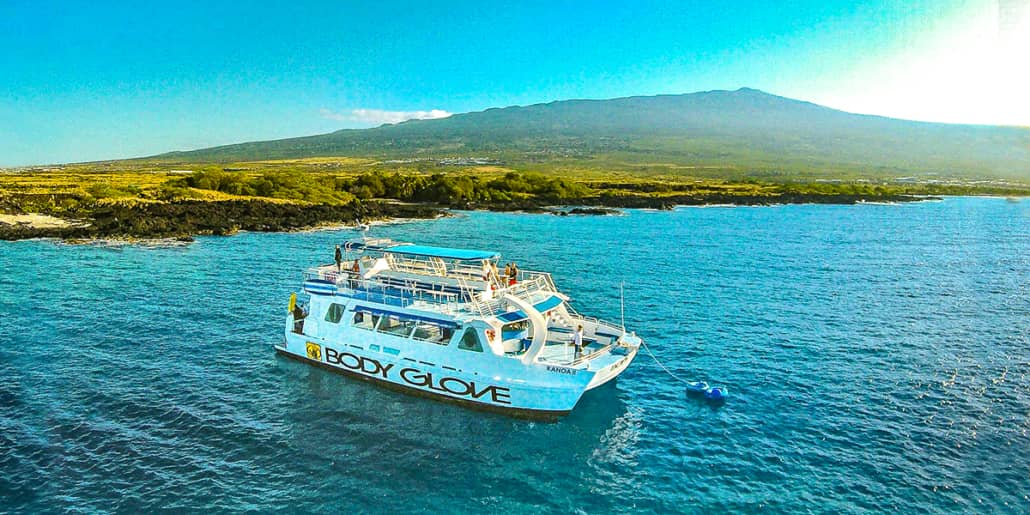 western side of the Big Island, this stunning stretch of coastline offers visitors a variety of activities to explore and enjoy. From pristine beaches to lush rainforests, snorkeling around coral reefs to hiking through tropical terrain, there's something for everyone on the Kona Coast. Whether you're looking for a relaxing getaway or an action-packed adventure, the Kona coast has it all! With its captivating views and diverse range of attractions, it's easy to see why so many people flock here year after year.
Extraordinary Morning Rafting
&

Snorkeling Details
Highlights
Guided snorkeling with knowledgeable crew members

Snorkeling gear will be provided

Experience tropical fish, green sea turtles, spinner dolphins, eels, and more

Take an exhilarating ride aboard a 41' super-raft
Explore some of Kona's most beautiful bays and coves

Savor a delicious picnic lunch, featuring fresh local ingredients

Snacks, breakfast, and sunscreen are included so you can enjoy the tour with ease

Quench your thirst with cold water and soft drinks
Description
This 4-hour tour is an extraordinary way to experience the beauty of Kona. Come aboard our 41ft super-raft, which offers the excitement of a traditional raft ride without any of the negative aspects. Our vessel has been equipped with personal storage, cushioned seating, and tons of shade - plus it even comes with its own bathroom!
Take in the breathtaking views of local marine life as our tour heads south of Kona to two commonly overlooked snorkeling sites. With an in-water guide, snorkelers can enjoy an intimate trip that will help enhance their experience and allow them to observe Hawaiian marine life up close. So join us for an exhilarating morning on the waters of Kona. This is an adventure you won't want to miss!
Price & Availability
4-Hour Morning Snorkel Tour From Kona
Adults

Ages 18 yrs+

$

130.00
Children

Ages 6-17 yrs

$

110.00
Departure & Return
The tour departs the Kailua Pier in Kona around 8:30am and returns at 12:30pm.
Cancellation Policy
Any request for a refund 72 hours or more prior to the start of the tour or activity is honored with a full refund.
No refunds are issued for any cancellations inside the 72-hour period, prior to the start of your tour. There is no refund for no-shows. There is no charge for date change or tour change based on tour availability outside of the 72-hour cancellation period.
Frequently Asked Questions
How long is the excursion?

From start to finish, this snorkel tour lasts about 4 hours.

Can I bring my own snorkeling gear?

You are welcome to bring your own snorkeling equipment if you prefer. However, we do offer sanitized gear for our guests to use as well. If you are new to snorkeling or want a refresher, we recommend attending our "Snorkeling 101" class which is conducted by our trained crew on the vessel just before snorkeling starts. It includes valuable tips that can make your experience more enjoyable.

Are there any restrictions?

Unfortunately, we are unable to permit children who are five years old and younger, pregnant women, or guests with persistent neck or back pain to join us for this tour.