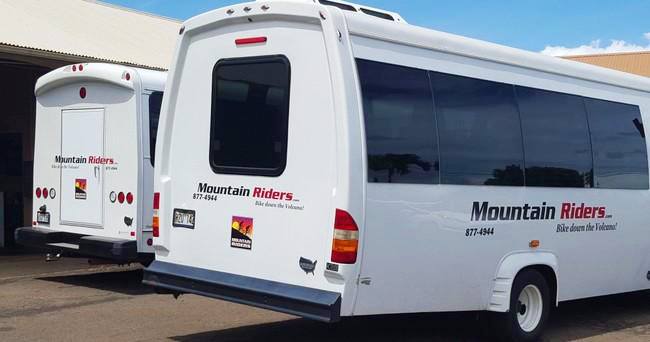 Maui Sunrise Volcano Bike Tour Details
Tour Description
The Sunrise Journey is our most popular tour and seating is EXTREMELY limited!
Your tour begins with hotel pick-up and tour to Haleakala. Valley Isle Excursions tour guides provide you with a history of Haleakala, its geology, and an explanation of rare plants and animals only found in Maui. Upon arrival at the summit, you will be escorted by your guides to the rim of the crater where you will view the spectacular sunrise.
Your tour then proceeds to the 6,500 foot level of Haleakala where you will receive a comprehensive safety briefing and begin your 26-mile bike ride down the slopes of Haleakala – the world's largest dormant volcano. Your journey proceeds through Haleakala Ranch and continues through the upcountry community of Kula.
The ride continues through Makawao Town, riding through pineapple fields, and continues down to the Pacific Ocean and ending at Paia Bay Beach Park. Included in the Sunrise Tour is round trip transportation to and from Haleakala National Park by Valley Isle Excursions (an authorized Haleakala National Park concessionaire), at our base-yard office, Columbia Sportswear windbreaker jacket, helmet, and state-of-the-art volcano chrome cruiser bikes.
Sample Itinerary
DESTINATION: Haleakala
CHECK-IN: 3:00 am (times vary seasonally)
RETURNS: 12:00pm
The minimum biking age is 12 …due to high elevation no pregnant women are allowed on this tour, either as a biker or a van rider. Maximum weight approx. 280lbs. Minimum height 4′ 10″
Price & Availability
Self-Guided Bike Ride
Adults

Ages 12 and older

$

249.00
Meals Included
A hot and cold beverage service with a light snack (hot coffee/tea/chocolate, juice & water with an assortment of granola bars)
Special Instructions
Must be 12 years old
Must be at least 5' tall
Not Pregnant
Must be a competent bike rider
Must sign an acknowledgment of risk form
Must view "Leave No Trace Video"
Considerations
Mountain Riders look forward to your participation and safe enjoyment while on our tour. You should consider the following before participating:
Are you taking any medications that would impair your ability to ride safely?
Do you have any medical condition that would affect your ability to ride safely?
Have you ridden a bike in the last two years?
Are you afraid of heights?
Are you comfortable on a bike (getting on and off safely, riding a bicycle in complete control, and maneuvering your bike through 180-degree turns?