Take a Maui sunset sail aboard Trilogy's safe and comfortable ocean sailing catamaran. Our sunset cruise provides the most romantic way to experience the beauty of a Maui sunset. Our chefs prepare an assortment of hot and cold appetizers (view menu below) that are guaranteed to satisfy the most discriminating gourmet.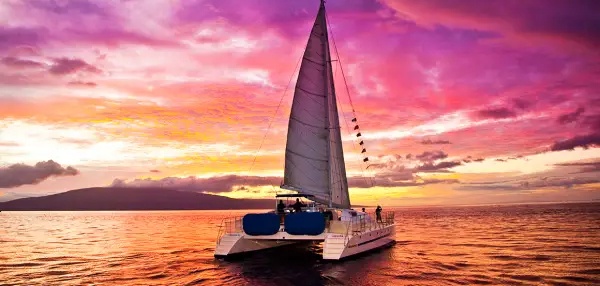 Deluxe Kaanapali Sunset Sail Tour Details
Tour Highlights
Luxury Catamaran chauffeuring you directly to and from the shore of Ka'anapali Beach

Gourmet chef created appetizers

Farm-to-table locally sourced ingredients

Intimate, romantic setting. On deck tables for two.
Whale watching December-April

Premium signature cocktails

Experienced and friendly Captain and Crew

Narration of local history and marine life
Tour Description
Take a picturesque and romantic cruise while on Maui. This is a great way to combine a wonderful activity with great food and service, a truly memorable combination. Your tour begins with pickup right on the beach. Step from the sand onto the boat in true Hawaiian style. From Kaanapali, we venture out along the shoreline to the best areas to capture the sunset, enjoy the island views and see some wildlife too (whales during Dec. thru April).
Our award-winning crew serves up an amazing meal and beverages that are sure to please any palate. The tour finishes up in the dusk light back on the beach at Kaanapali. A wonderful 2-hour dinner and sunset tour along Mauiʻs Western shores.
Activity & Event Itinerary
3:30 pm – Check in on Ka'anapali Beach
4:00 pm – Departure from Ka'anapali Beach shore line
4:00 pm – 4:30 pm – Sail down the West Maui coastline while hearing narration of the local history and Marine life. Food and beverages service commences.
4:30 – 5:00 pm – First and Second appetizer courses are served
5:00 – 6:00 pm – Dessert and drinks are served during return trip sailing back to Ka'anapali Beach shore
*Departure time vary by season to ensure a spectacular sunset viewing; 4:00 pm departure (winter) or 5:00 pm departure (summer) departure. Your confirmation call will confirm the check-in time.
Prices & Availability
2-Hour Deluxe Ka'anapali Sunset Dinner Sail From Ka'anapali Beach
Adult

Age 18 years and older

$

109.00
Youth

Age 13 and 17 years

$

109.00
Child

Age 3 and 12 years

$

70.00
Infant

Age 0 and 2 years

FREE
2 yrs and under are free.
Tour operating daily except Sunday

What to Bring
Bring your camera
Zip lock bag
Non-aerosol sun protection
Light jacket or sweatshirt.This is a barefoot sail but if you would like to wear shoes we recommend wearing deck shoes or rubber-soled shoes
Check-in
Parking:
If using a GPS, please enter this address: Ka'anapali Beach Hotel 2525 Ka'anapali Pkwy. Lahaina, HI 96761 Parking is available in hotel's parking structure. A crew member will validate your parking ticket. Check-in is 30 minutes prior to departure time at the Beach Lawn fronting Ka'anapali Beach Hotel.
Check-in:
3:45 pm (winter season) or 4:45 pm (summer season) at the Trilogy Concierge Services beach desk fronting Ka'anapali Beach Hotel. Look for your Trilogy crew member wearing a blue Trilogy shirt. PLEASE NOTE – You will be loading directly from the beach, through the water, onto the boat and you will get wet. Wear your swimsuit (with a cover-up) and please place your cell phone and camera in a dry bag.
Special Instructions
Itinerary confirmation will have the exact time to board.
Boarding time will vary depending winter or summer season.
Deluxe Kaanapali Sunset Sail Tour Features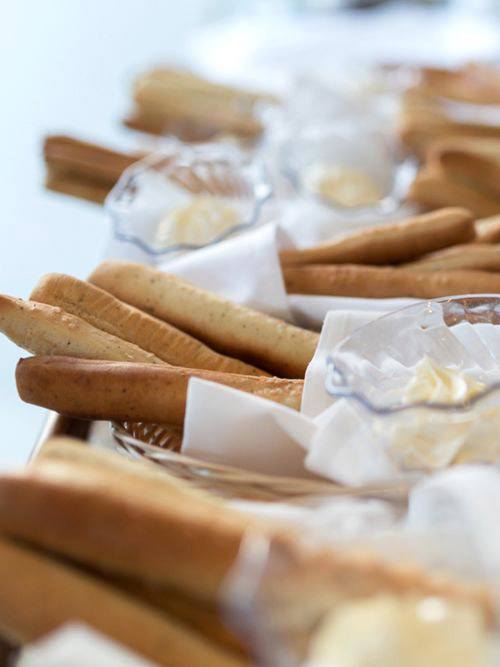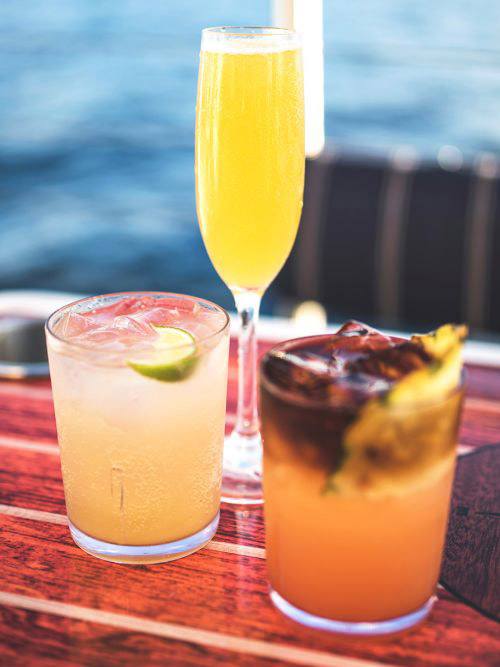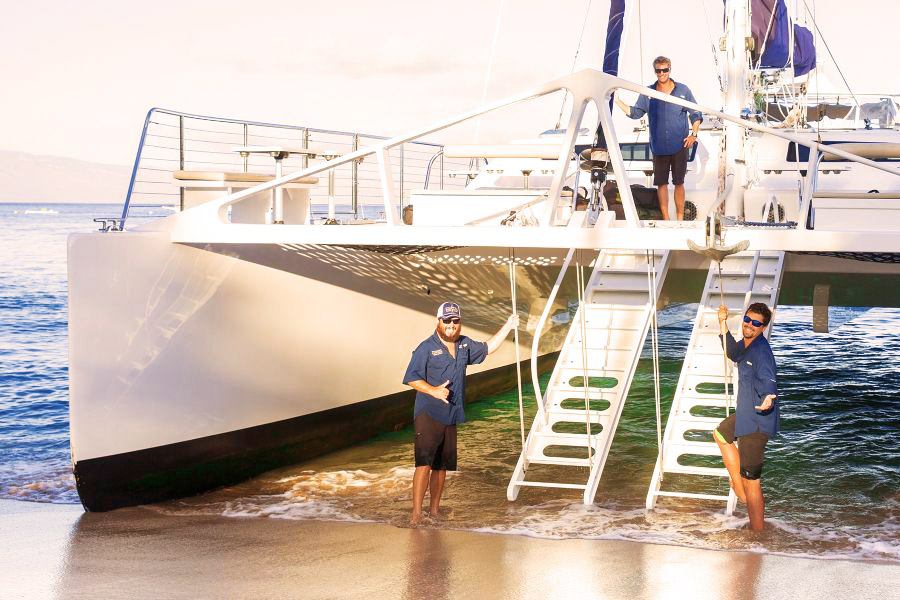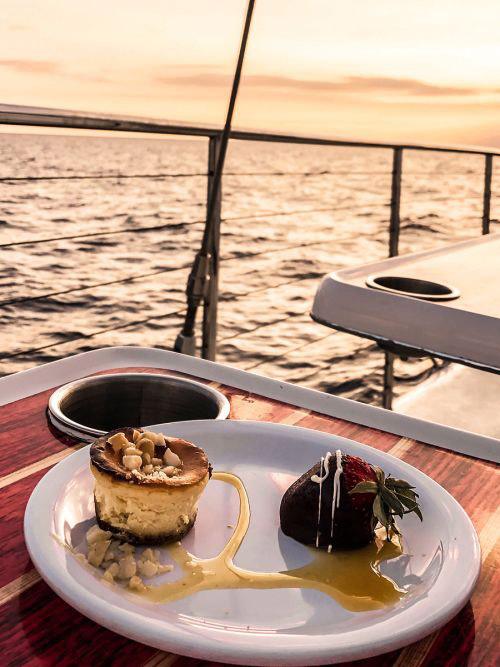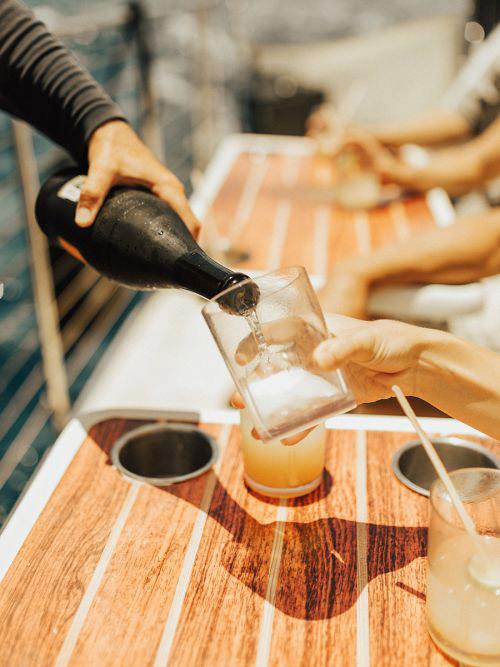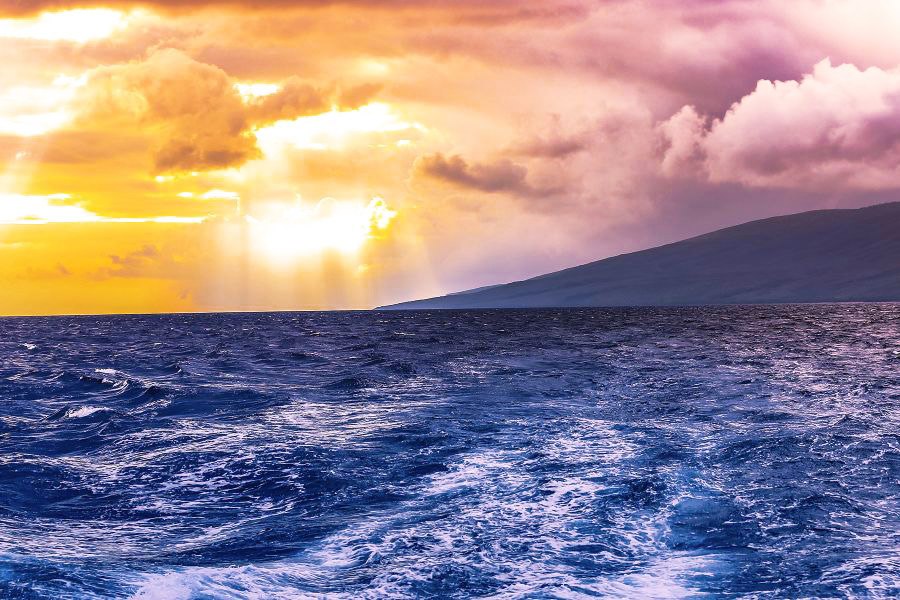 With breathtaking views of Moloka'i and Lana'i, spinner dolphins and flying fish, this two-hour Maui sunset sail is relaxing, delicious, and fun for the whole family! So, join Maui's oldest and most experienced sailing company for a personalized deluxe sunset sail that loads directly from world famous Ka'anapali Beach.
Frequently Asked Questions
We will be sailing for about two hours following a thirty minute check in

Where does the cruise take us?

We will be sailing down the West Maui coastline

Will there be Food and drinks?

An appetizer menu prepared by a gourmet chef and premium cocktails will be served during the cruise

Are the cost of appetizers and drinks extra?

The cost includes a meal and drinks. This is a great tour with an open bar. They have a good variety of alcoholic and non-alcoholic drinks. There will be 2-rounds of appetizers served at your table.