Certified Sustainable Tour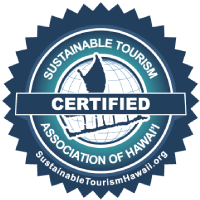 Address
55-541 Naniloa Loop, Laie, HI 96762
Who We Are
Sustainable Tourism Association of Hawaii (STAH) is a member-based non-profit organization that certifies sustainable tour operations in Hawaii.
What We Do
We have been educating visitors, businesses, and the community about the benefits of eco-friendly tourism through our programs to protect Hawaii's environment and cultural resources for over 25 years.
Our top priority is to guarantee that companies comply with our mission to protect Hawaii's sacred land, environment, endangered species, and the Aloha way of life.
Choose Sustainable Tours
Our certified operators maintain very high standards for community and environmental protection by ensuring their tours are as eco-friendly, culturally educational, and sustainable as possible.
By choosing a tour with our stamp of approval, you will be helping to support Hawaii while protecting our unique environment at the same time.
Our number one goal is to encourage you to Travel Pono (Twitter, Instagram, Facebook), traveling consciously and respectfully. We strongly encourage visitors to explore Hawaii in a way that is respectful of the native Hawaiian culture, wildlife and environment, and local residents.