On The Garden Isle Of Kauai, There Are Many Ways To Explore This Island
From the moment you arrive on Kauai, you'll be enthralled by the island's lush natural beauty, the untouched tropical rainforests, and the dramatic sea cliffs that make up the Na Pali Coastline. Kauai is also home to Waimea Canyon; the mile-wide valley spans 14 miles seaward and 3,600 feet deep, earning its nickname "The Grand Canyon of the Pacific". The tallest point on the island, Mount Waialeale, is the wettest spot in the United States. Soaring above the rest of Kauai Island, Mount Waialeale has an annual rainfall of 452 inches, filling reservoirs and rivers while adding to the island's signature green. E komo mai – welcome – to the "Garden Isle" of Kauai, the oldest, smallest, and most verdant of the four main Hawaiian Islands.
Of the main Hawaiian Islands, Kauai boasts the longest history despite its limited geography. Because Kauai Island was the first formed in the main island chain, the volcanic rock that forms Kauai has experienced the lengthiest exposure to the elements, resulting in dramatic landscapes shaped by wind and rain erosion. The dominant geological features of the island range from vast, gaping canyons to colossal sea cliffs, reaching thousands of feet skyward. Kauai is lined with over 50 miles of beach – more than any other island – and is also where the only navigable freshwater river in the state resides. Kauai is undoubtedly the gem of the island chain.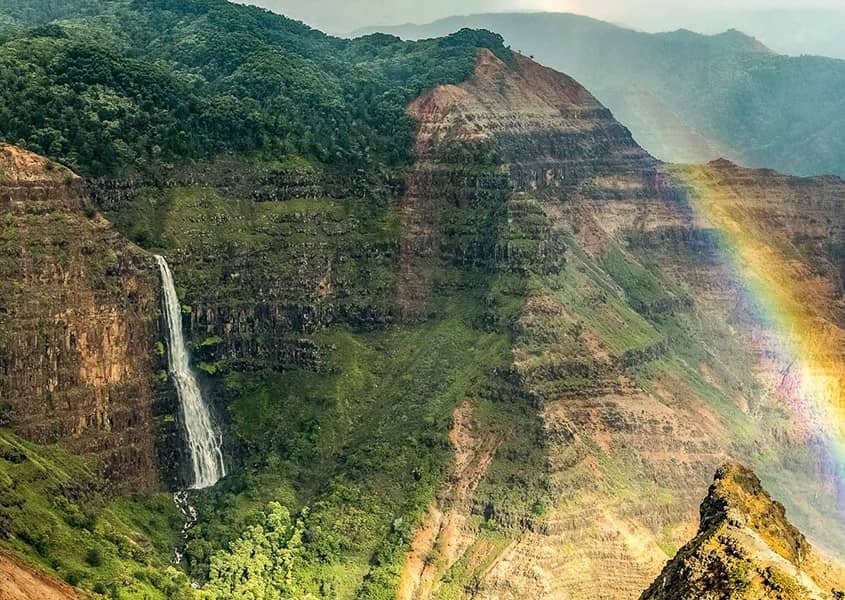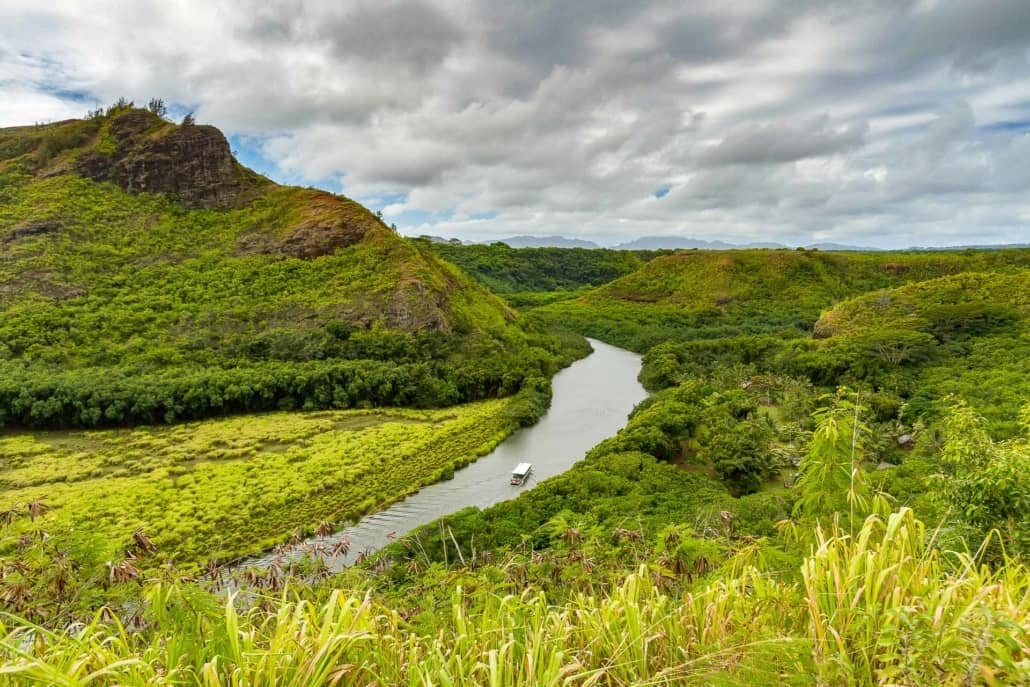 Since 90 percent of Kauai is inaccessible by roads, hiking and helicopter tours are a great way to take in the steep, densely-forested landscapes of the Garden Isle. Kauai is just as spectacular from a boat tour as it is from above. Taking in the 2,000 ft. high panoramic cliffs of the Na Pali Coast from the sea will leave you awe-struck. The Wailua River offers boat and kayak tours to the famous Fern Grotto. The river is also of historical note, with an ancient Hawaiian village situated along its banks, giving rise to the sacred nature of this amazing river valley.
Kayaking, snorkeling, and surfing are also popular activities when visiting Kauai, along with ziplining, tubing through former sugarcane irrigation ditches, and exploring in the trademark red dirt of Waimea Canyon.
Kauai has also been the setting of numerous movies and TV shows over the years and many visitors enjoy guided tours to famous filming locations for "Six Days Seven Nights", "The Amazing Race", Pirates of the Caribbean, "Gilligan's Island", "Fantasy Island" and "Blue Hawaii". Countless hiking trails through the diverse landscape bring visitors up close to the flora and fauna of this picturesque island. Kauai is also a birdwatcher's paradise, as the island has 80+ species of birds that nest here, 21 of which are native exclusively to Kauai!
Kauai is a lush, green, jungle paradise that is easy to experience, even with limited time. The isle's petite size makes it the perfect island to venture to for a few days from another island. We can help make the most of your Hawaiʻi vacation by providing flights and rental cars for your day trip to the Garden Isle. Arrangements can easily be made to have tours pick you up upon arrival. It's island hopping at it's best!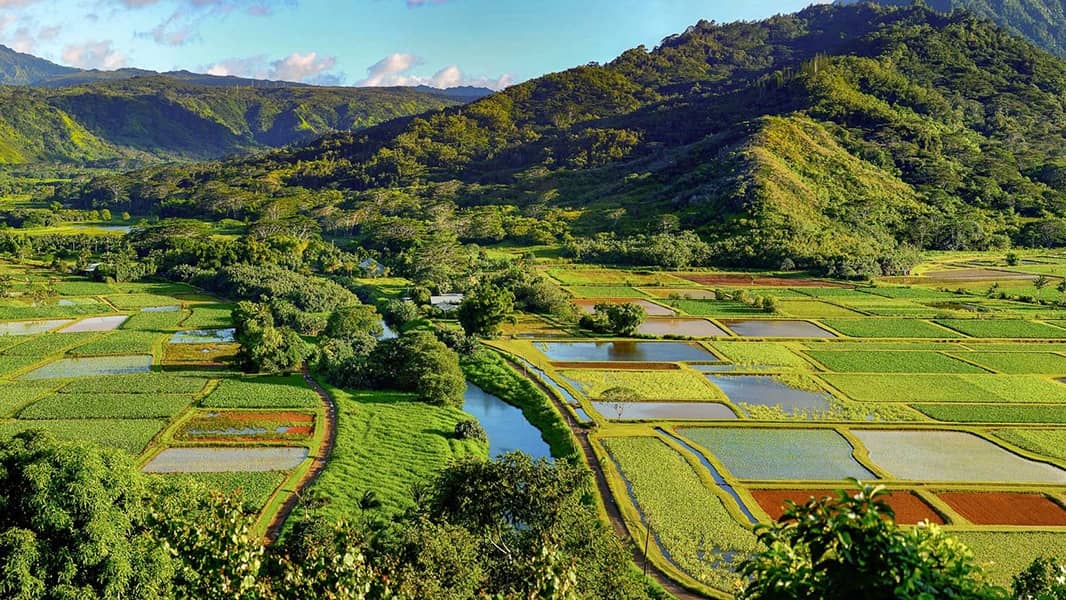 Pearl Harbor Tours From Kauai
Do you still really want to see Pearl Harbor but are on Kauai? There are a number of great tours to not only see Pearl Harbor but the rest of Oʻahu too. No vacation to Oʻahu is complete without a visit to the USS Arizona Memorial and the USS Battleship Missouri. After that, you can visit the historic city of Honolulu before getting back to Kauai for a late dinner.
Pearl Harbor Address and Hours of Operation
Address: 1 Arizona Memorial Place Honolulu, Hawaii 96818
Hours of Operation: Pearl Harbor Visitor Center is open each day from 7:00 AM to 5:00 PM. Pearl Harbor is closed on Thanksgiving Day, Christmas, and New Year's Day.
Because December 7th is the anniversary of the attack on Pearl Harbor we do not offer tours on that day due to ceremonies in honor of the fallen soldiers.
Disclaimers
Navy boat rides to the Arizona Memorial may be cancelled for safety reasons on days where there are high winds.
Helpful Tour Tips
Approximate tour time is 7:00 AM to 8:00 PM. We recommend checking in an hour and 15 minutes before your flight's departure arrive so please allow yourself enough time to do so.
Our flights from Kauai to Oahu leave early in the morning and return later at night to give you more time in Honolulu so seats are limited. With that in mind, we recommend that you book this our Pearl Harbor tours before you arrive in Kauai.
Details about your flights and airline confirmation codes will be listed on your itinerary.
Transportation to and from Lihue airport is not included in this tour.
Lihue Airport
Address:3901 Mokulele Loop, Lihue, HI 96766
Parking Fee at Lihue Airport: $15 for 48 hours
Distance from resort areas to Lihue Airport:
Poipu is approximately 15 miles. Leave your hotel 2 hours before flight departure.
Princeville is approximately 30 miles. Leave your hotel 2 hours and 15 minutes before flight departure.
Round Trip Airfare
All Pearl Harbor Tours from Kauai include round trip airline ticket, 35-minute flight to Oahu and pick up at the Honolulu International Airport. All tours come with a tour/driver except for the Pearl Harbor Tickets – Kauai to Oahu Fly-Drive Package.
Rental Cars
Depending on your preference we have options available for guided tours or self guided tours which include a rental car.
Frequently Asked Questions About Kauai
What is the best area to stay in Kauai?
Kauai has three main geological areas to stay. They include the lush north shore areas of Hanalei and Princeville, The east shore areas of Kapaa and Lihue (including the airport) and the sunny south shore areas of Koloa, Poipu, and Waimea.
Which side of Kauai has the best weather?
Kauai's Mt Waialeale is the second wettest place on earth with 460 inches of rainfall per year. However just 20 or so miles away on the south side of the island, which includes Poipu and Waimea, averages around 35 inches of rain per year making it a popular side for visitors to stay. Kapaa and Lihue come in second with around 48 inches per year.
What is the rainy season in Kauai?
Rain can happen year around in Kauai but there are technically two seasons in Hawaii. Summer is the dry season and the rainy season runs from November to April.
Do you need a car in Kauai?
It is recommended that visitors rent a car while on Kauai. There is public transportation between towns but they do not allow luggage. Many resorts have shuttle service from the airport and the Hyatt Resort in Poipu offers green cars that can be rented by the hour. Many tours offer transportation from the major resort areas also.
What is the best month to go to Kauai?
The best time to visit Kauai is between September and November or from April to June. These are the shoulder seasons when the weather is pleasant and hotel and airfare rates drop.