CLEAR WATER, BEAUTIFUL CORALS, HUNDREDS OF FISH
Go snorkeling at a marine conservation area and see more wild, marine life in a beautiful bay about a ½ an hour drive from Waikiki. Limited parking happens so get the shuttle and gear for a 5 hour adventure you will not soon forget.
You will need to reserve ahead of time for the actual tickets to Hanauma Bay. This only provides shuttle service due to the limited number of parking spaces available at the bay. Please reserve your tickets with the Department of Land and Natural Resources first. Book them here two days before. The tickets sell out quickly.
Hanauma Bay Shuttle and Snorkel Gear Rental Features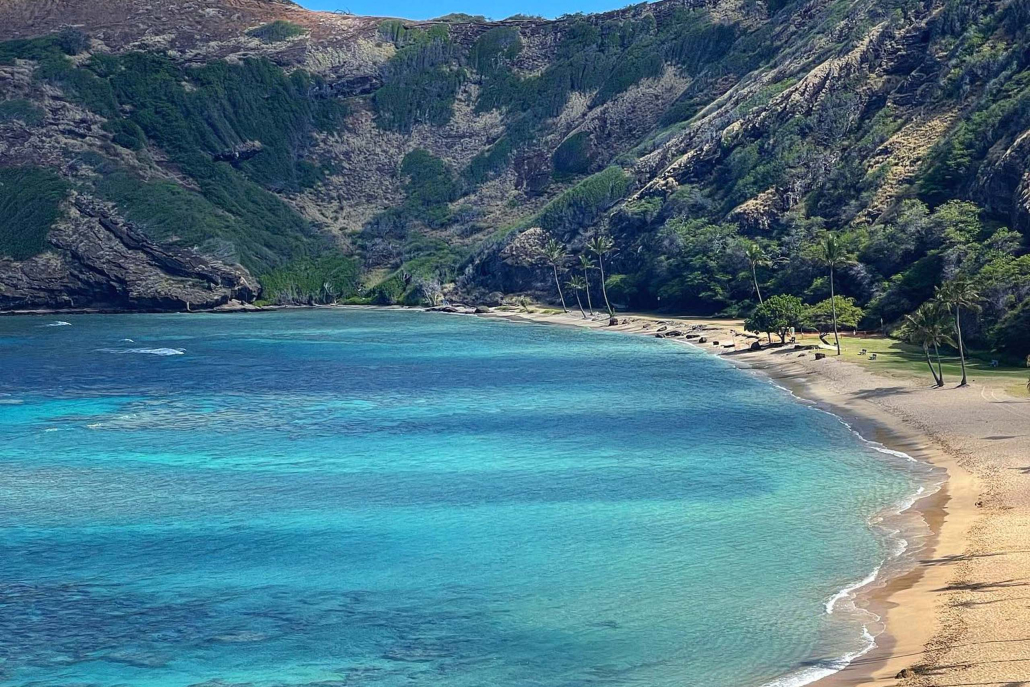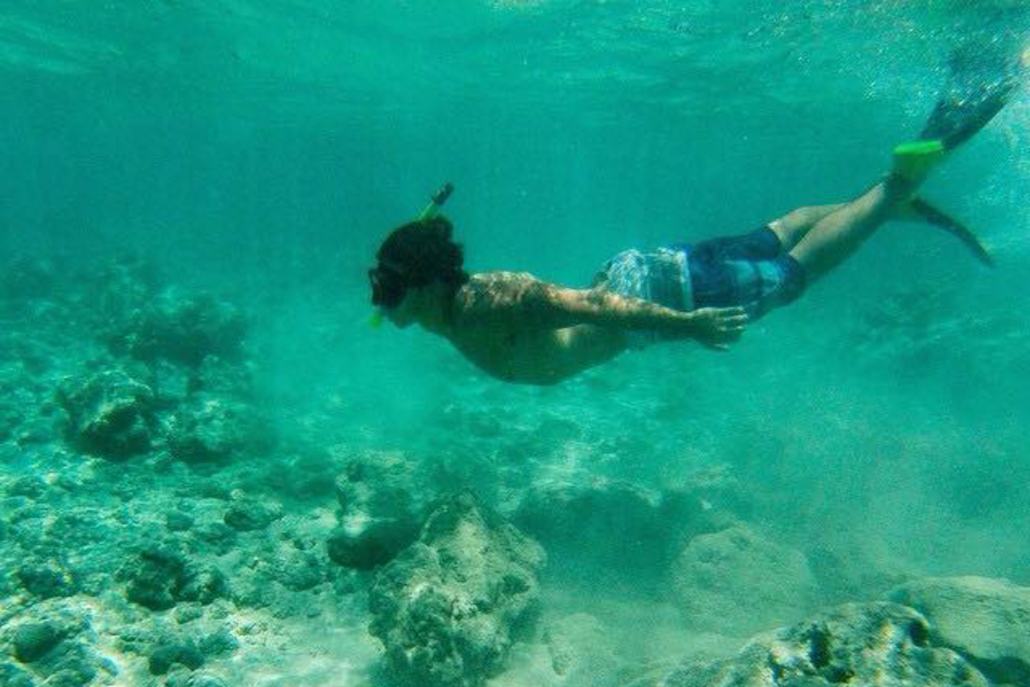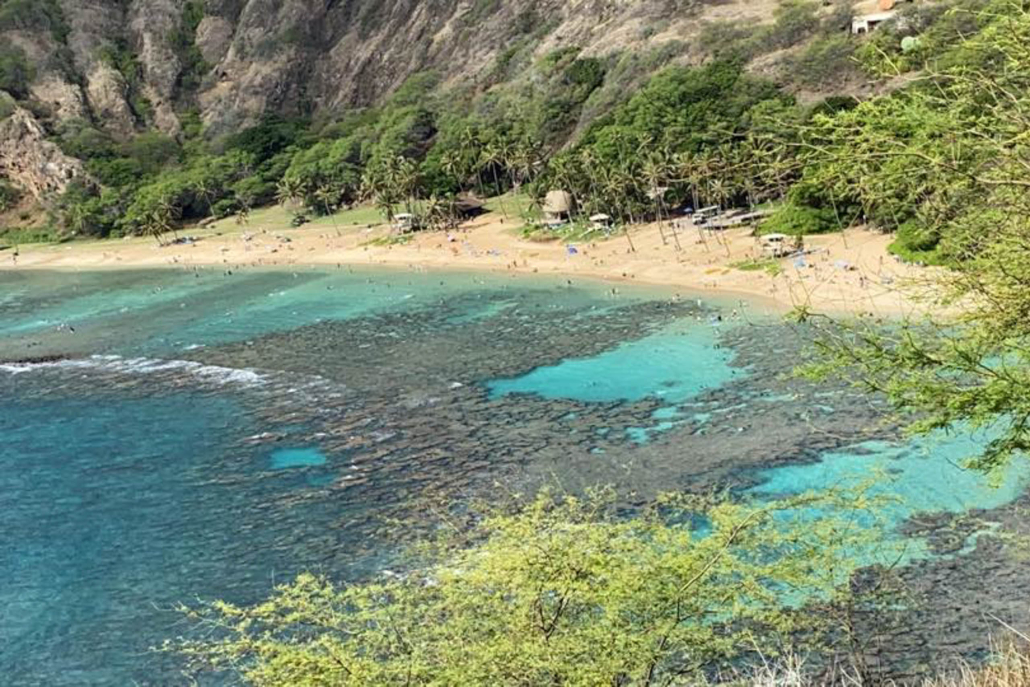 A Stunning Marine Sanctuary
Experience the enchanting allure of Hanauma Bay nestled within a dormant volcanic cone. Thanks to the tireless efforts of the City and County of Honolulu, this pristine paradise has been meticulously restored, offering a flourishing ecosystem like no other. Prepare to be mesmerized by the wonders of this destination, hailed as the Best Beach in the United States in 2016. Immerse yourself in the magic of Hanauma Bay and join the noble cause of preserving its awe-inspiring natural treasures.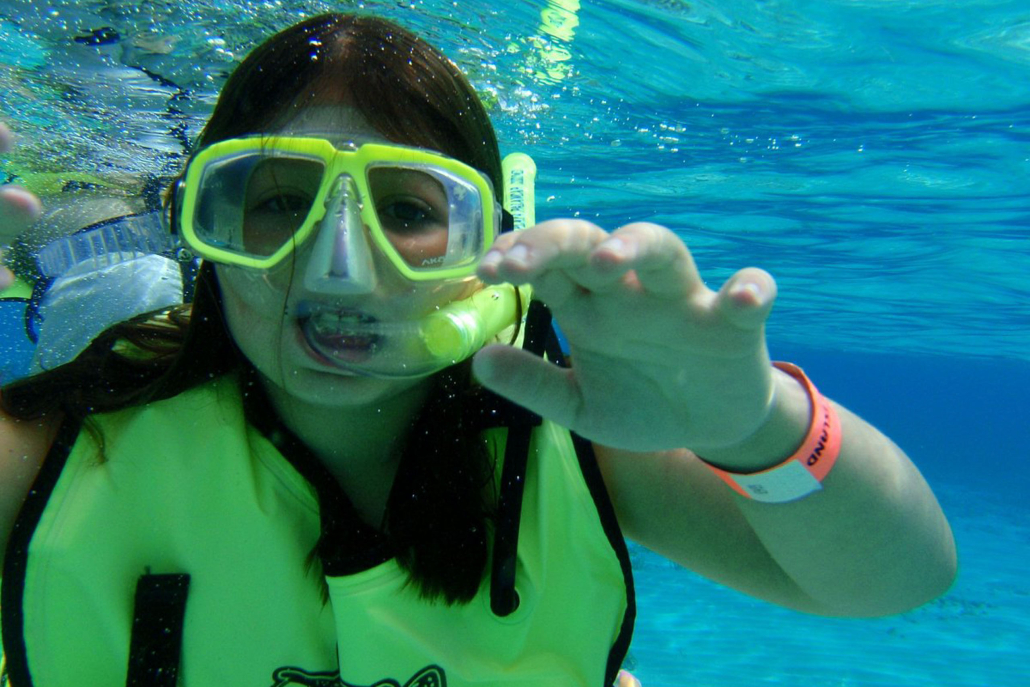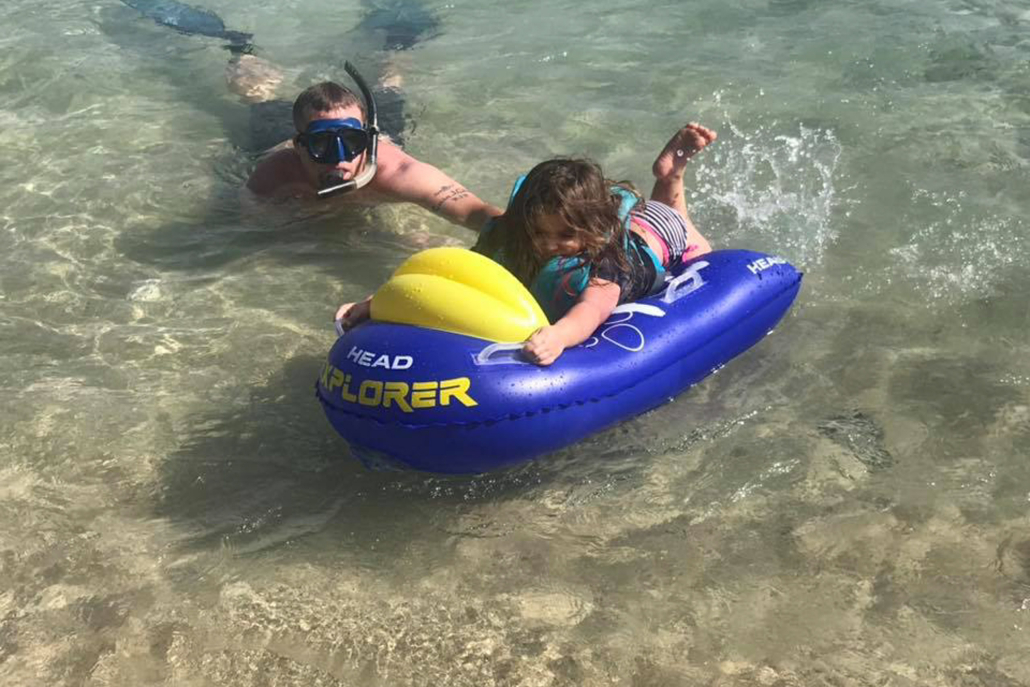 Whether you're nine or 90, you'll discover a tranquil oasis embraced by volcanic crater walls and a vibrant surrounding reef. Dive into crystal-clear waters and witness an incredible array of marine wonders. From schools of dazzling fish to vibrant coral gardens, Hanauma Bay offers an unforgettable experience for the whole family. Unleash your adventurous spirit and create cherished, lifelong memories at this remarkable natural haven. Can you say Humuhumunukunukuapua'a? This little fellow is the state fish of Hawaii and is recognizable by its striking blue and yellow pattern.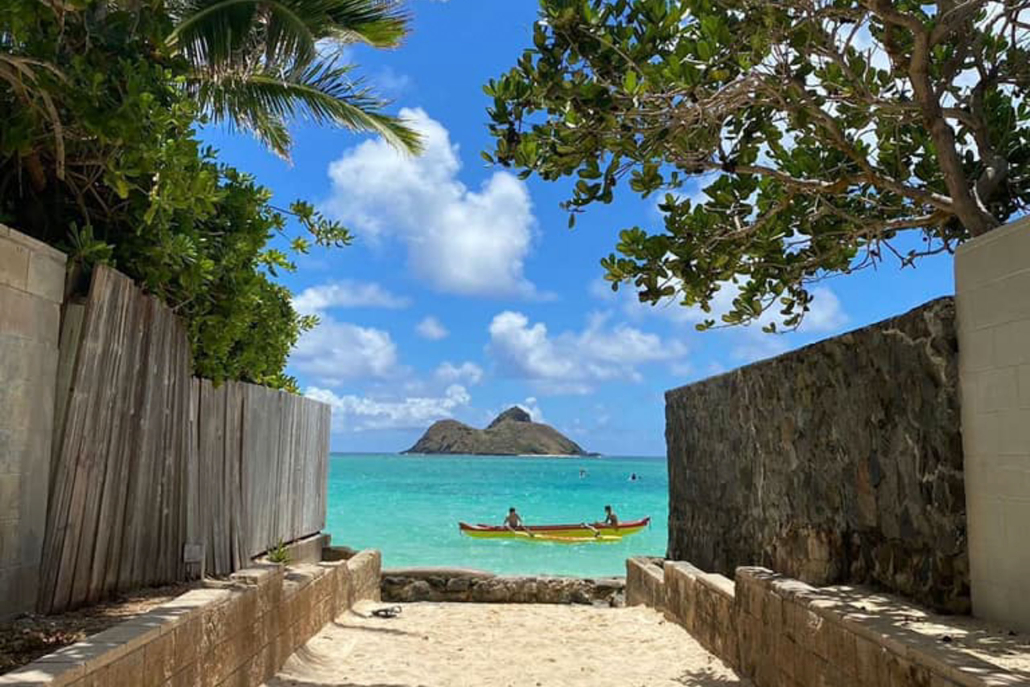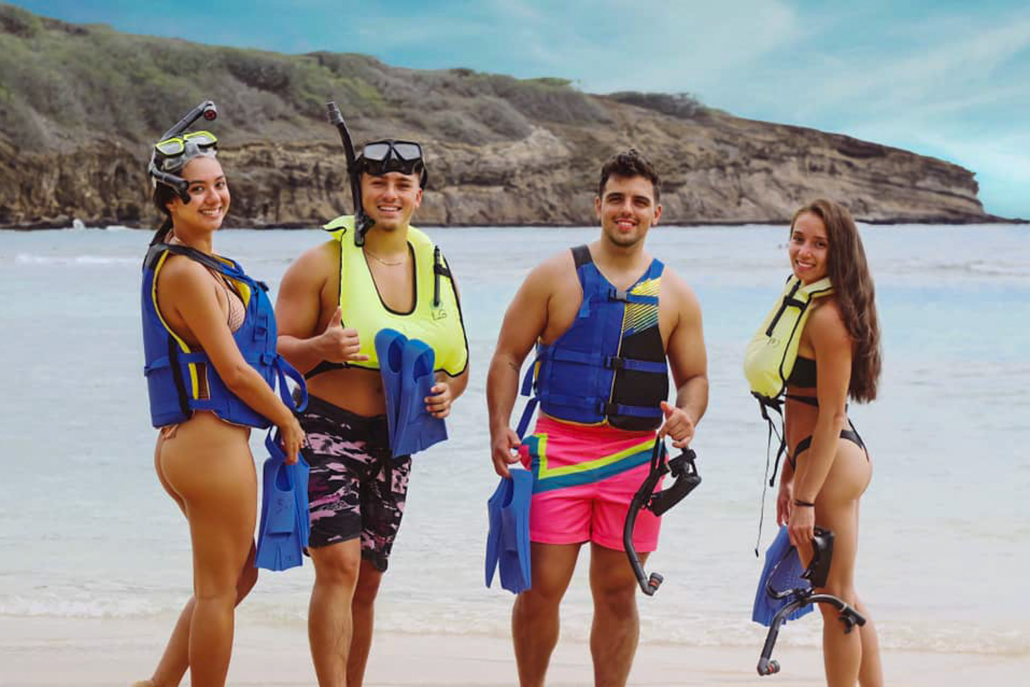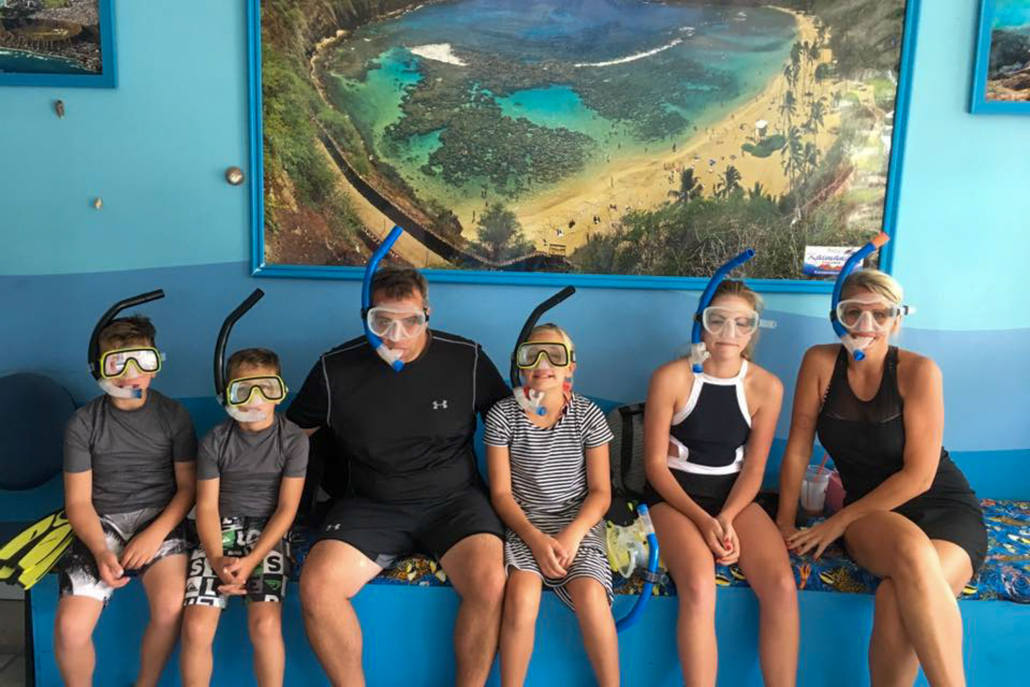 Learn About Marine Conservation
Our team of passionate volunteers is ready to share their knowledge about reef conservation and the remarkable array of fish residing in this picturesque location.
Since 2002, we have proudly operated a state-of-the-art marine education center at Hanauma Bay. This center serves as a gateway to understanding and appreciating the extraordinary marine life that thrives within our pristine waters.
As part of our commitment to conservation, we request all first-time visitors to view a short, yet informative, 9-minute video before entering the park. This visual presentation emphasizes the significance of preserving marine life and outlines vital safety regulations to ensure a delightful experience for all. Join us in safeguarding the natural beauty of Hanauma Bay while discovering the wonders of its aquatic treasures.
Hanauma Bay Shuttle and Snorkel Gear Rental Details
Highlights
Visit And Snorkel Hanauma Bay

30-Min Round Trip Ride

Includes All Snorkel Gear
5.5 Hrs. Wed to Sun. Waikiki

Fun for the Whole Family

Amazing Photo Opportunities
Description
Discover the breathtaking beauty of this marine conservation area just a short drive from Waikiki. Immerse yourself in a fascinating 5-hour snorkeling adventure and prepare to be amazed by the incredible array of marine life in a stunning bay.
Don't worry about limited parking spaces - our convenient shuttle service has got you covered. Hanauma Bay, a designated Marine Life Conservation Area since 1967, is home to a diverse marine population and a vast coral reef. This natural wonder is an absolute must-see!
Dive into the tranquil waters of the bay and swim among a vibrant coral reef that is home to over 450 species of tropical fish, with a quarter of them exclusive to Hawaii.
Our comprehensive tour package guarantees your comfort and enjoyment. It includes round-trip transportation from Waikiki, a 30-minute journey each way. You'll also have access to top-quality, sanitized equipment including a silicon-tempered mask, J-type snorkel, and endurance vinyl acetate fins. Our experienced instructors are available to guide and support you throughout the experience. And if you need it, we've got you covered with mask defogger upon request.
A $25 admission charge to Hanauma Bay is not included, must bring CASH for the admission ticket. The entrance fee is waived for children under 13, members of the military (ID required), and for residents of Hawaii with proof of residency.
Price & Availability
5-Hour Self-Guided Haunama Bay Snorkel Shuttle From Waikiki Hotels
Adults

Ages 12 yrs+

$

51.00
Child

Ages 0-12 yrs

$

46.00
Available Wed-Sunday
What's Included
All Snorkel Gear
Round Trip Transportation From Waikiki
Departure & Return
Transportation Times:
Shuttle Departure Time (from Waikiki): 5:50 a.m.
Shuttle Return Time (back in Waikiki): 12 p.m.
Shuttle Departure Time (from Waikiki): 7:30 a.m.
Shuttle Return Time (back in Waikiki): 1:30 p.m.
Cancellation Policy
Any changes or cancellations must be made at least 48 HOURS prior to your reservation. Failure to cancel in less than 48 hours before your scheduled tour will be subject to a charge of 100% of the total amount onto your CREDIT CARD. Please email us at: [email protected]
Every canceled tour will receive a cancellation confirmation email.
Frequently Asked Questions
Cash for the entrance fee, swimsuit, a towel, sunscreen, hat, and sunglasses recommended.

Are prescription snorkeling masks available?

Yes, they are available, but there is an additional fee to be paid upon check-in. Please indicate during booking so we can secure your arrangements.

Do I need to be able to swim to participate?

No, this is mainly a shuttle transport and snorkel equipment rental service. Please be careful and take any responsible precautions if you are not a strong swimmer.

Is there somewhere to eat at Hanauma Bay?

YES – the snack bar located on the upper level of the park is open.