Oahu Snorkel Tour In Hanauma Bay
We pick you up at your hotel doorstep for your day of fun in the sun, snorkeling at Hanauma Bay Nature Preserve! The bay is protected by the walls of volcanic formation and the waters are pure and clear to provide ideal protected environment for fish and other marine wild life. The inner reef beach area is a long descent from zero to about 13 feet and perfect for children and casual snorkeling, while the outside reef portion is from 13 feet to 30+ feet and good for a fun challenge for more advanced snorkelers.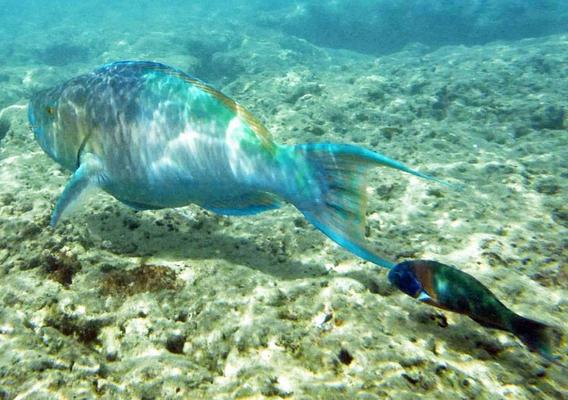 Hanauma Bay Snorkel Details
Highlight
Standard Tour 
High quality silicon dive mask, dry snorkel, fins, life vest and beach mat

Hotel pick-up and drop off

Local taxes

Changing room, Wifi at Snorkel gear pickup
Deluxe Tour
All snorkel equipment

Waikiki transportation to Hanauma Bay

Bottled water and snacks

Personal guide and instruction

Guided swim to snorkel the best spots in Hanauma Bay
Tour Description
Explore Hanamanau Bay with or without a guide. Our deluxe tour includes a guide-in-the-water for your small group of 6. Let them show you all around the bay in this wonderful tour to see the best sites and the most marine wildlife away from the crowds.
Great for all ages, transportation is included in both tours as well as all the snorkel equipment you need to explore the bay. The unguided tour option (Standard Option) provides you with all you need to snorkel and get to the entrance of the bay as well as a return trip to Waikiki.
Price & Availability
Standard Tour – $38.00 / adult – $33.00 / child
| | |
| --- | --- |
| Available | Everyday except closed on Tuesdays. |
| Pick-up | 7:00am, 8:00am, or 10:00am |
| Return | 11:30am, 1:15pm, or 2:45pm |
Deluxe Tour – $59.00 / adult – $59.00 / child
| | |
| --- | --- |
| Available | Mon, Wed, Thu, Fri, Sat. Tour Not Available Sunday and Tuesday. |
| Pick-up | 7:00am – 11:30am or 12:30pm – 4:30pm |
Please select pick-up & return times in check-out process.
The cost for admission to the bay is not included in the tour cost.

Special Instructions
Entrance fee of $9.00 is not included in the tour price. Entrance fee is for those ages 13yrs & older.
This tour is not wheelchair accessible.
Please note that Hanauma Bay is closed on Tuesdays!
Hanauma Bay Snorkel Features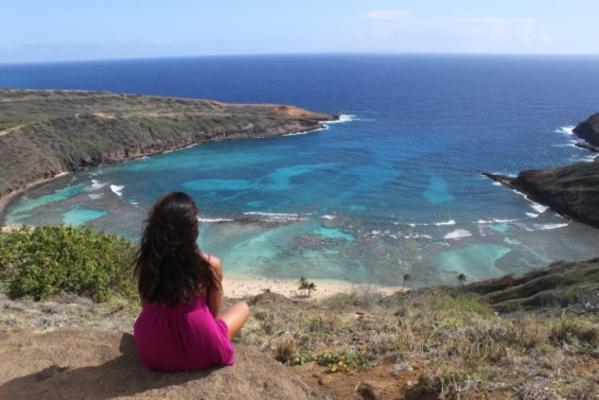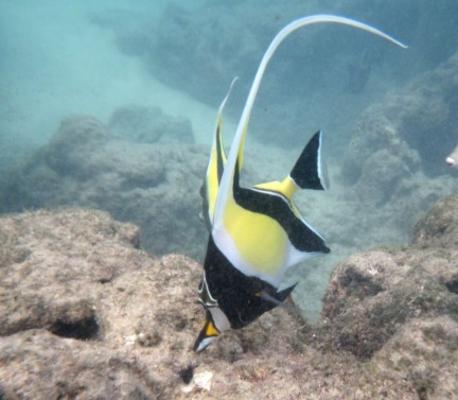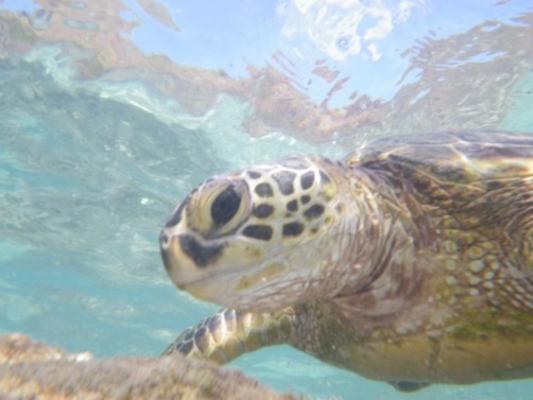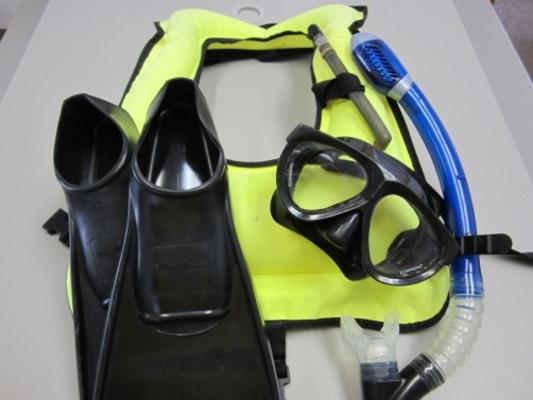 Standard Snorkel On Your Own
Snorkeling is one of the easiest and safest ways to truly experience Hawaii. And there's no better place to do just that than at the world-famous Hanauma Bay Nature Preserve. The cone-shaped bay, remnants of a volcanic formation, completely protects the crystal clear waters; thus making it an ideal location for spotting coral, fish, and other marine wildlife. With two reefs of various depths, it's an excellent spot for both beginner and advanced snorkelers.
On our Hanauma Bay Standard Tour, we'll pick you up and take care of all the transportation to the nature preserve.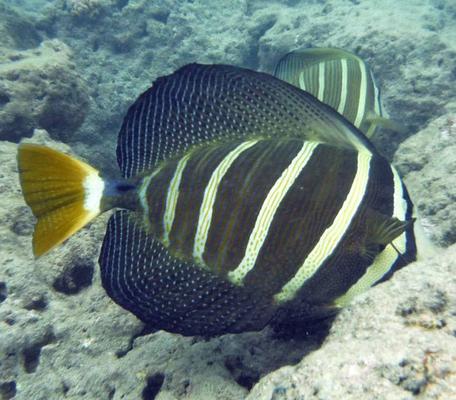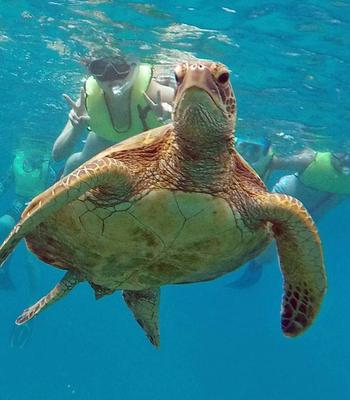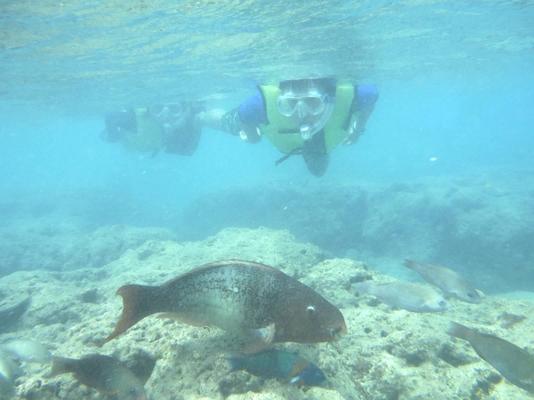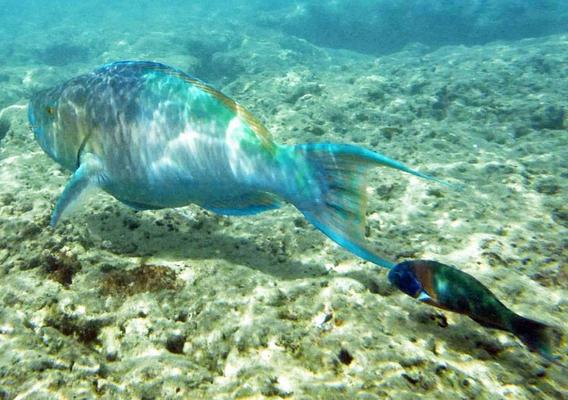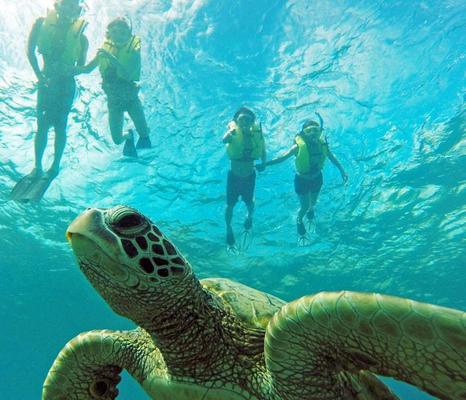 Formed from the remains of a volcanic cone, Hanauma Bay offers pristine snorkel conditions: clear blue water, many coral reefs, and plenty of marine wildlife to observe. Not to mention, it's just stunningly beautiful. Hanauma Bay is a must-see Oahu attraction.
On our Deluxe Hanauma Bay Tour, we take care of all of the details. We provide high quality, sanitized snorkel equipment, flotation vests, beach mats, bottled waters, snacks, round-trip transportation and more. All you have to do is enjoy the wondrous beauty of Hanauma Bay!
Frequently Asked Questions