Haleakala Sunrise
&

Downhill Bike Ride
If you're looking to not waste a minute of your vacation and craving a unique experience, the Maui Sunrise Volcano Bike tour is for you. Experience the majesty of Maui High atop a 10,000 ft volcano while watching the sunrise and the light stretch across the valley. Let the cool clean air fill your lungs as you watch the island come to life. Bring in the light of a new day surrounded by rare and exotic species like the Ahinahina and Nene Goose, Both endangered species fighting their way back from the brink of extinction.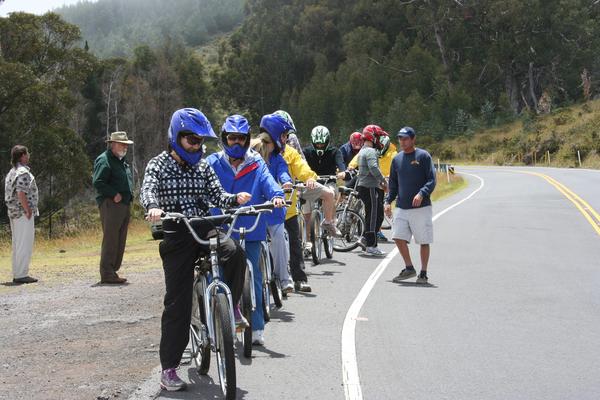 As you make your way down the summit, your bicycle safari will begin at the 6,500 foot elevation, where you will begin the descent down the world's largest resting volcano. You will gently descend the 21 switchbacks, where you will enjoy bi-coastal views of Maui's central valley and the West Maui Mountains, all while taking in the beauty and fragrance of the flora surrounding you. Experience the wind in your face and the beauty Maui has to offer you on one of our most popular tours.
Haleakala Sunrise At Summit
&

Bike Tour Details
Tour Highlights
South & West Maui Pickup Included
Entrance to Haleakala National Park
View a Maui Sunrise from the volcano summit
26 Mile bike ride down the Volcano
Fully Guided Tour In Van & On Bikes
All equipment (rain gear) included
Snacks and hot drinks provided
Tour duration approximately 8-9 hours.
Tour Description
Your tour will begin with a Valley Isle Excursions guide picking you up from your hotel to escort you to Haleakala. Along the ride, you will learn about the history of Haleakala, its unique geology and the rare plants and animals that can only be found on Maui. Once you reach your destination at 10,000 feet your guides will then take you to the rim of the crater where you'll witness one of the most spectacular sunrises in the world. Peering through crystal clear skies you'll witness the enchanting beauty of Maui as it welcomes a new day.
As your adventure continues you will descend to the 6,500 ft. level of Haleakala where your guides will give you a comprehensive briefing to ensure your safety along your journey. Once the briefing is completed you will begin your 26-mile bike ride down the 21 switchbacks of Haleakala – the largest dormant Volcano in the world. You'll pass through Pine and Eucalyptus forests, fields of lavender and through Haleakala ranch to the upcountry community of Kula, home to the gallery of renowned local artist Curtis Wilson Cost. Take in the scenery and witness the bi-coastal views of Maui from high up the mountain as you gently coast your way to Makawao town.
Makawao is a historical Paniolo (Cowboy) town in Maui. While there, take in the simplistic beauty of this quaint town and admire the architecture which hasn't changed much since its inception. Take a stroll back through time back to when life was simpler and moved a little slower. Enjoy a meal at one of the restaurants while shopping for gifts at one of the many shops found in the area. From wood sculptures to glass blown masterpieces to local and far eastern apparel you're sure to find something for the whole family.
The ride continues through Makawao Town, riding through pineapple fields, and continues down to the Pacific Ocean and ending at Paia Bay Beach Park. Included in the Sunrise Tour is round trip transportation to and from Haleakala National Park by Valley Isle Excursions (an authorized Haleakala National Park concessionaire), a hot and cold beverage service with a light snack (hot coffee/tea/chocolate, juice & water with an assortment of granola bars) at our base-yard office, Columbia Sportswear windbreaker jacket, helmet and state-of-the-art volcano chrome cruiser bikes.
Price & Availability
| | |
| --- | --- |
| Adult | $230.00 |
| Child (12 yrs+) | $230.00 |
Departs: 3:15am | Approximate Return: 12:00pm
This tour operates 360 days per year.
Hotel & condo pickup on the West and South side of Maui changes throughout the year. Please refer to your confirmation call to the exact time and locations of pickup.

Cancellation Policy
If you have decided to cancel your reservation or need to re-schedule, please call our 24 hours reservations 1-844-471-0785 or our local office at 808-518-3061.
All tour cancellations must be made 5-days prior to the tour date.
Any cancellation within a 5-day period of the scheduled tour date, is subject to a $50 cancellation fee per person.
You may re-schedule based on availability, 48-hours notice is required.
Tours cancelled within 24 hours from scheduled tour date will result in a FULL CHARGE.
No refund will be issued if you cancel a re-scheduled tour.
There will be 100% charge for No Show (If you do not show up for the scheduled tour, no refund will be issued).
Store items can be returned for store credit, no cash or credit refunds.
Special Instructions
 Here are some guidelines and tips before you get on Bike tour:  
Wear warm clothing in layers.
Competent riders – please, no beginners.
Sorry, NO PREGNANT WOMEN.
Minimum 12 years of age.
5 feet tall guideline height.
Wear close-toed rubber soled shoes.
Maximum weight for bike rider is 250 lbs.
No Riders may participate with medical conditions that would adversely effect them in this activity.
Riders must sign acknowledgement of risk & safety form.
Haleakala National Park Sunrise
&

Downhill Bike Features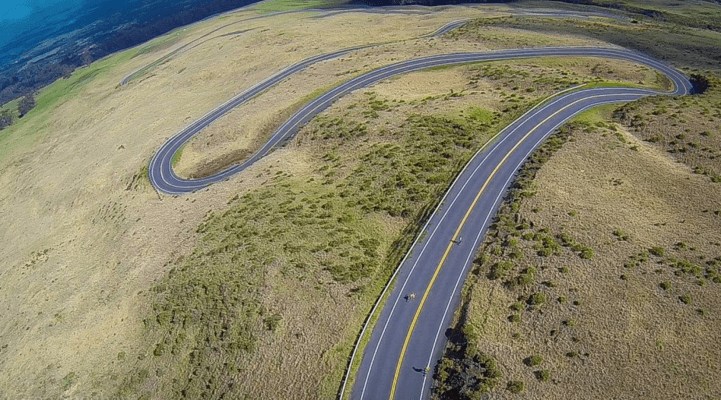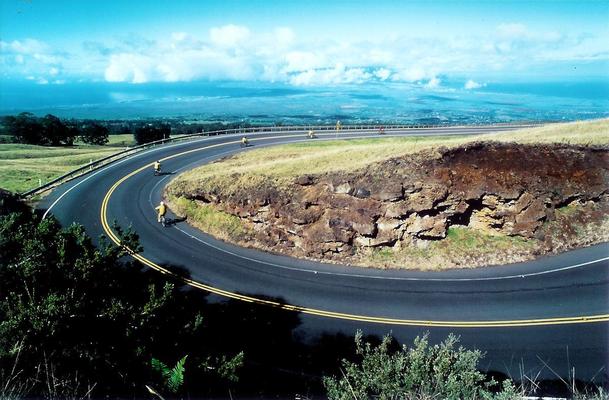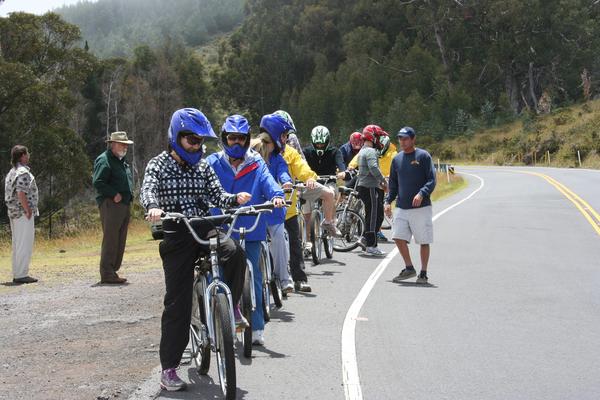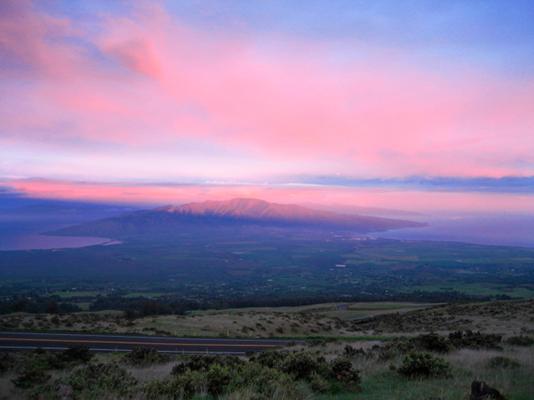 Visiting Haleakala is on every Maui visitorʻs bucket-list and we can provide you with the absolute best tour of it. We explore the Summit Visitor Center, Kalahaku overlook, Headquarters visitor center and so much more. You will visit with rare and beautiful plant and wildlife, some of which you will only see on the slopes of Haleakala. Haleakala is home to the rare Silversword plant (known in Hawaiian as 'ahinahina) and a nesting area for Hawaii's state bird, the Nēnē goose.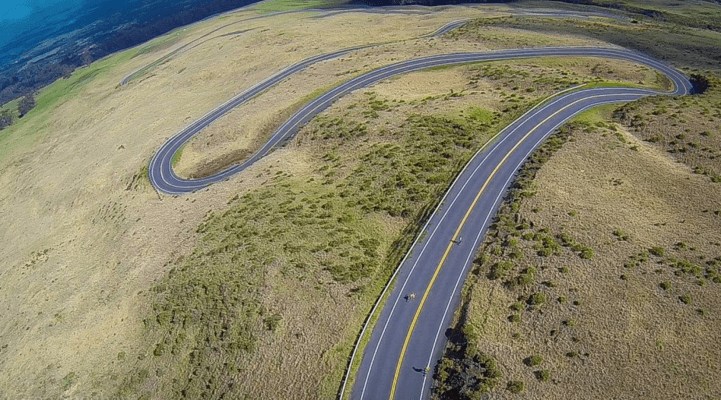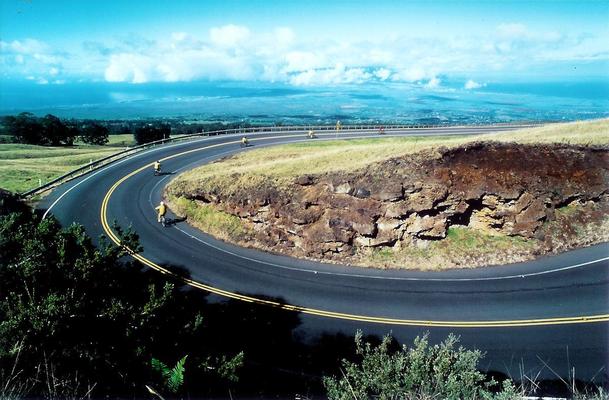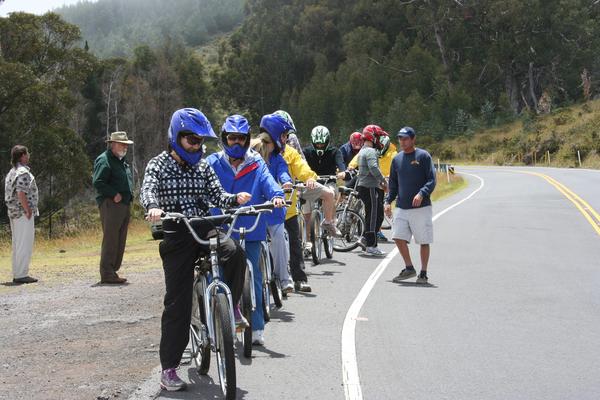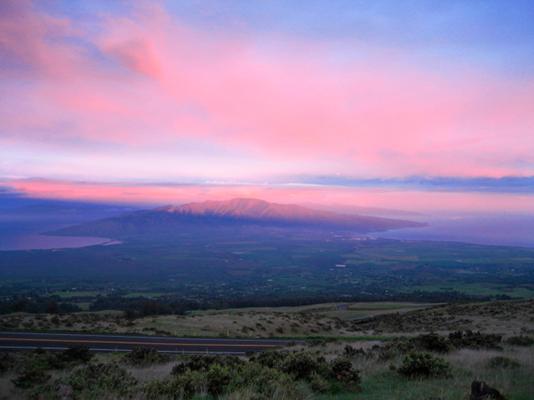 The most sought after experience on the island of Maui is watching the sunrise at the summit of Haleakala. Our guides bring you up to almost 10,000ʻ in the pre-dawn hours for a spectacular pre-dawn celestial show. The incredible stars on most nights are clear, like the ancient polynesian voyagers saw them. They used the stars to navigate across vast distances on their sailing canoes. As the sun rises up, the crater is exposed to fabulous changes of color and exposes the cinder cones that dot the valley floor far below your viewing spot.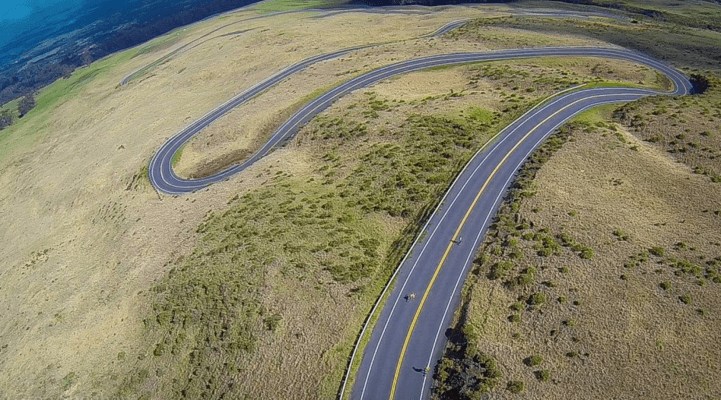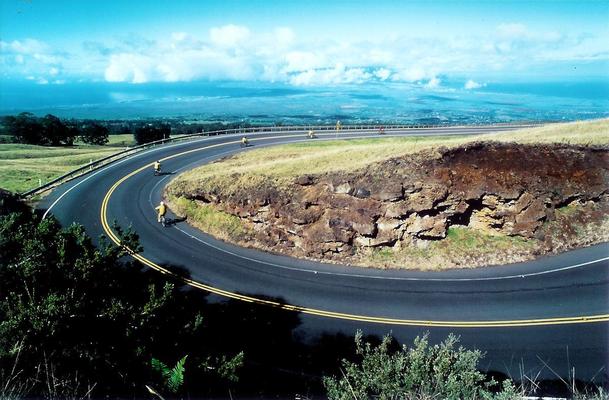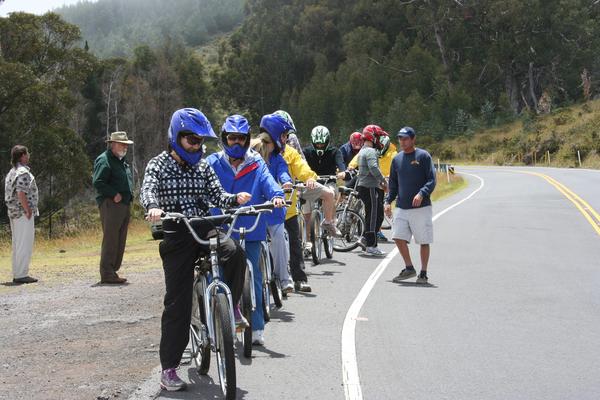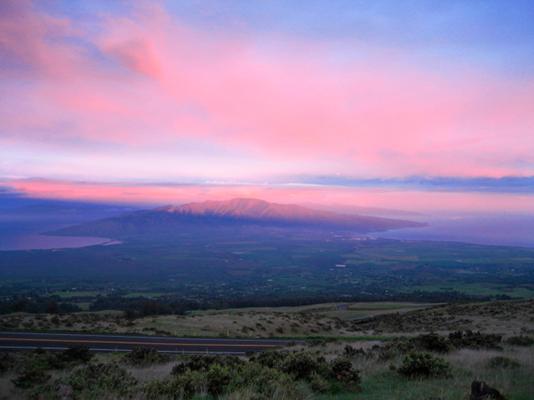 After exploring the park we exit it and head to the bikes for a guided tour down the mountain all the way to the shore in Paia. This safer tour option, versus the unguided bike ride, keeps the group together and includes a guide who leads the group as well as a van following behind in case anything happens.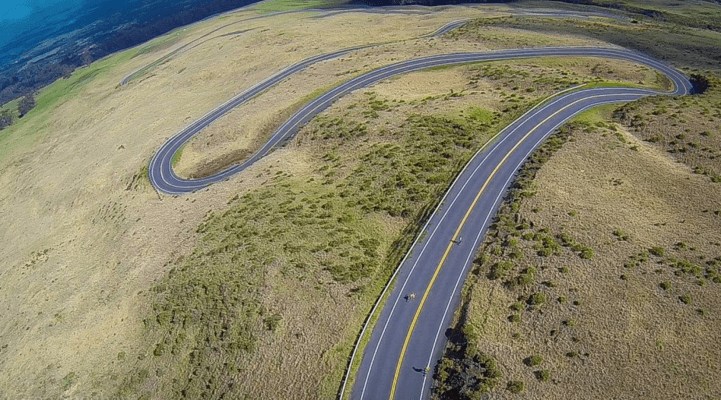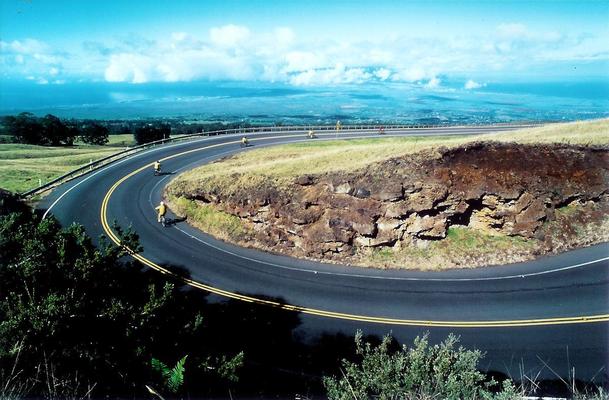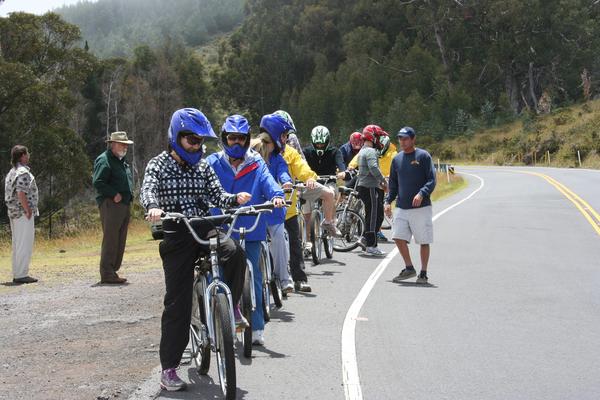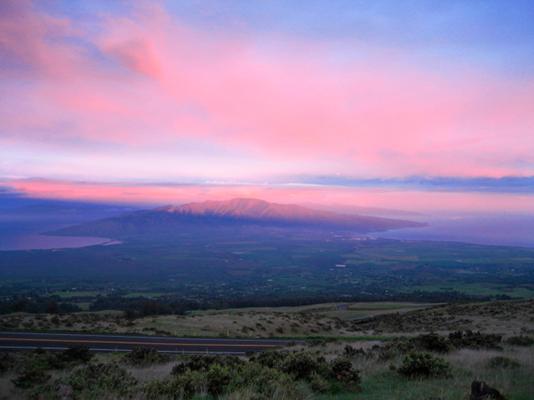 The bike tour starts high up in the ranch lands and works itʻs way down the many switchbacks through towns and villages of Upcountry Maui. We take breaks where the group needs to include a stop at the Lavender Cafe and Farm as well as in Makawao for snacks, shopping or a brief rest.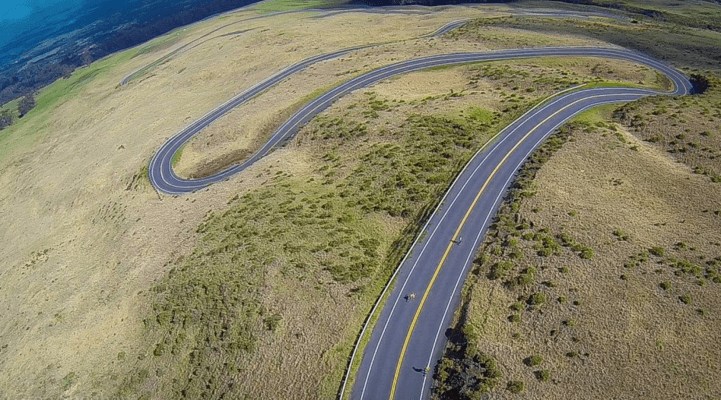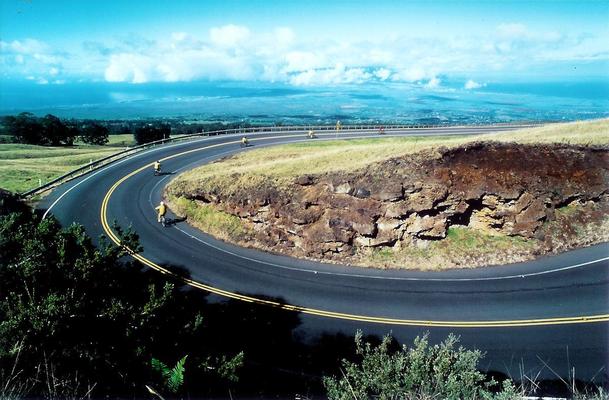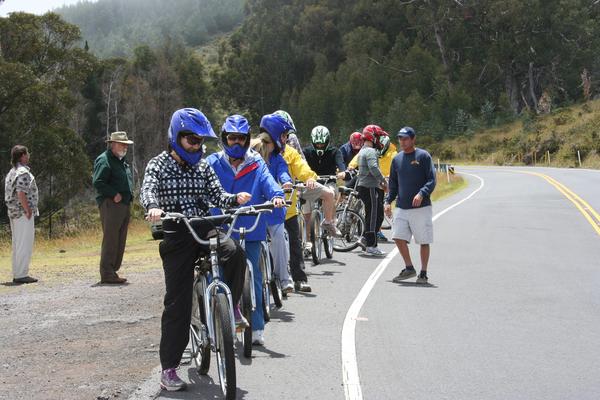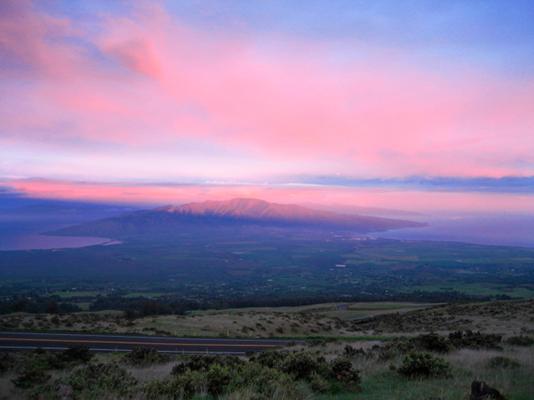 We end our tour just outside the North Shore town of Paia, after traveling over 26 miles and going from 10,000 feet to sea level in just a few short hours is one-of-a-kind adventure. Briefly see Paia and all it has to offer biking down the main streets to the beach, like the locals do. We return you back to your hotel or condo on the South and West Maui shores around noon.
Frequently Asked Questions
We're absolutely dedicated to helping you discover local experiences with our list of tours and activities unique to Hawaii.
NO HASSLE BEST
PRICE GUARANTEE
Book with confidence knowing we will match or beat price of any identical tour on any of the Hawaiian Islands.
If your plans change let us know 48 hours in advance of the scheduled activity and we can change with no charge to you.