Kailua-Kona, Big Island, Hawaii
Come join us at the Royal Kona Resort for the luau of a lifetime. It is an unforgettable festivity that includes a Hawaiian traditional lei greeting, Imu Ceremony, and all-you-can-eat authentic Polynesian buffet, with an open bar throughout the evening. The Royal Kona Luau is one of the best activities in Kailua-Kona.
Royal Kona Luau – Luau Features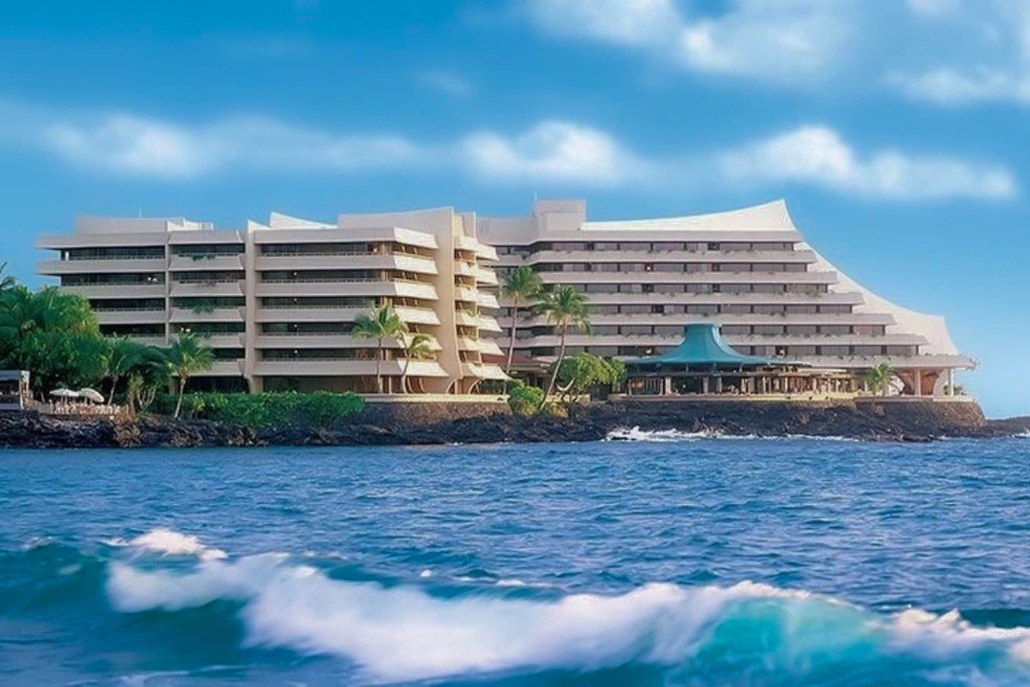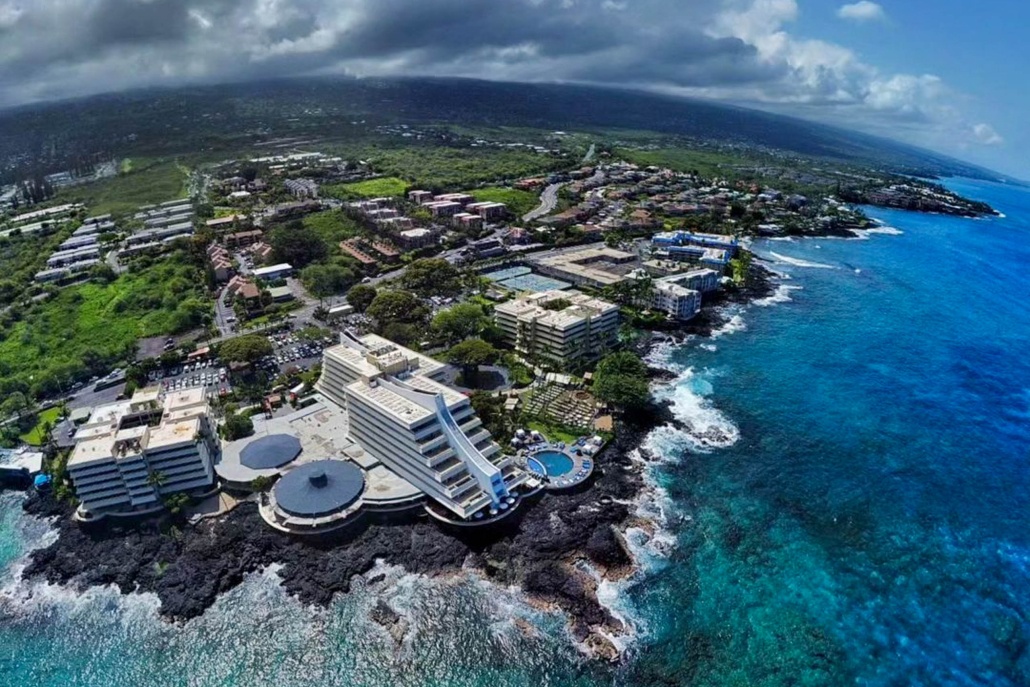 Located on the east coast of Hawaii's Big Island, Kailua Bay is known for its stunning turquoise waters and white sand beaches. Enjoy stunning ocean views overlooking the bay while you sip on a mai-tai or wait in line for the buffett. As the sun sets across the sky, Kailua Bay provides the backdrop for an unforgettable experience.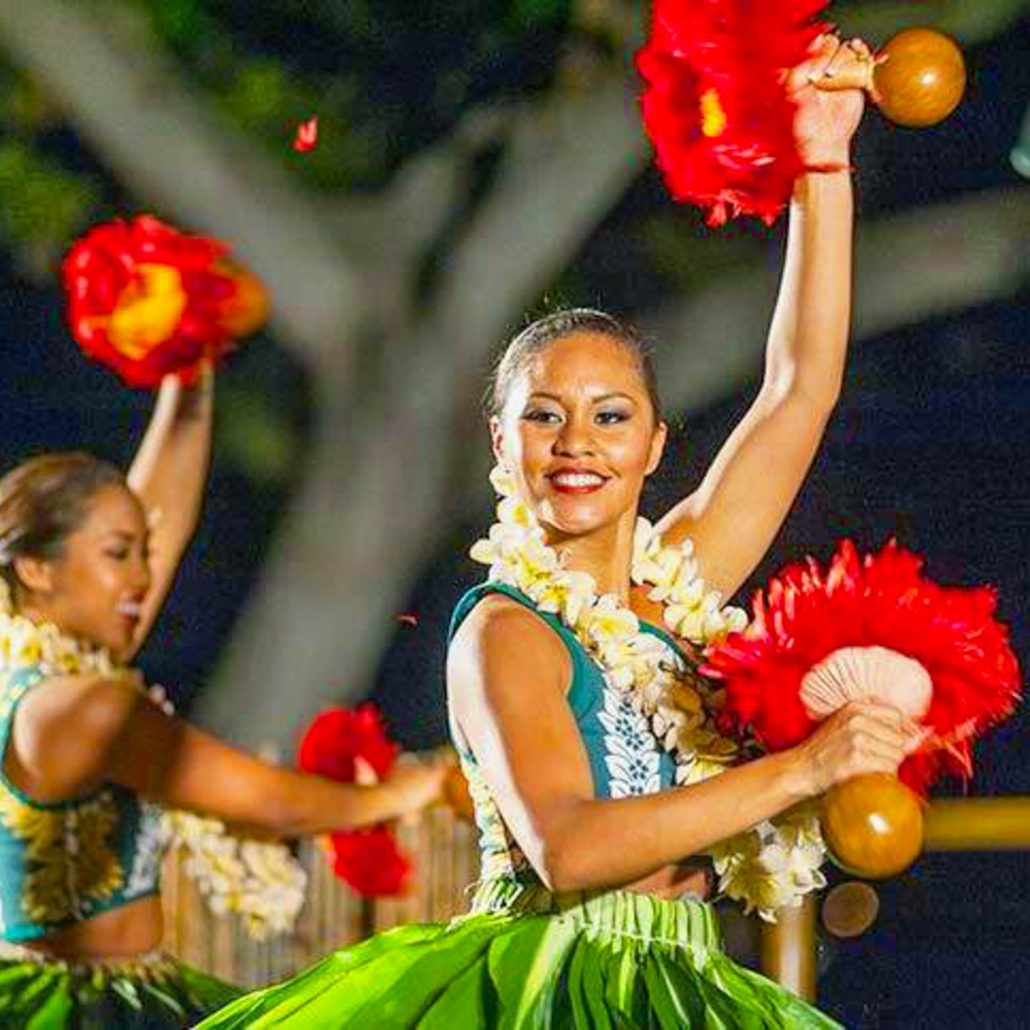 Sit down and relax while we take you through a Hawaiian musical journey, filled with music of the South Pacific islands. This spectacular Royal Kona show includes a great number of singers, dancers, drummers, and much more. You'll witness performances unknown to an average luau and experience a Samoan fire-knife dance finale.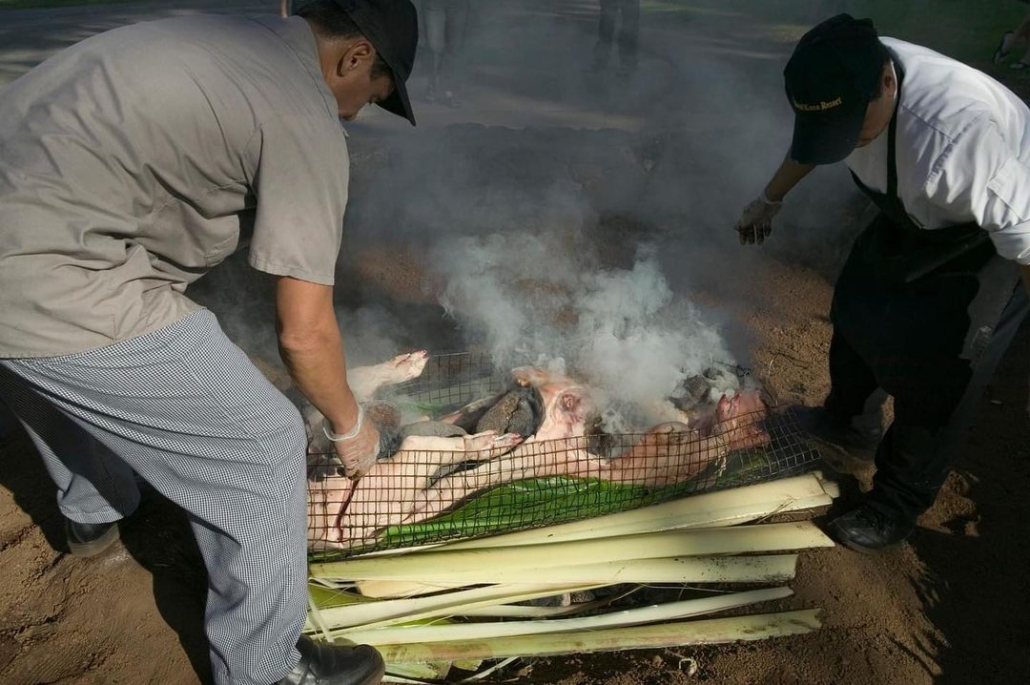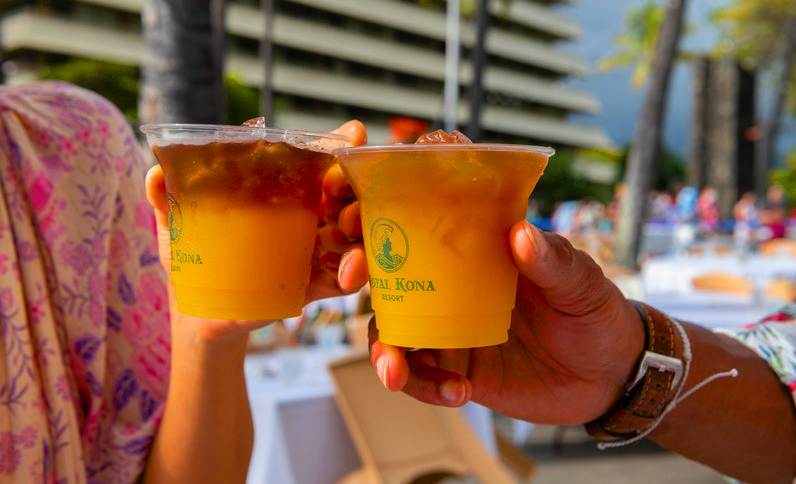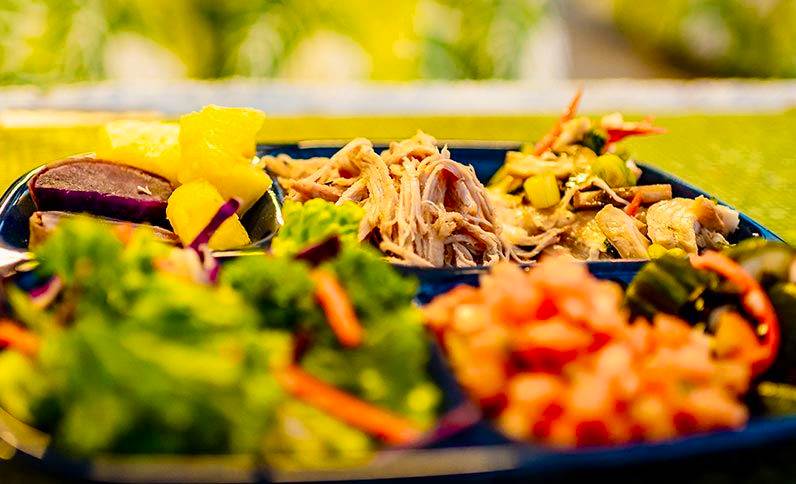 The authentic all-you-can-eat Polynesian buffet features a variety of mouthwatering Hawaiian specialties, as well as vegan and gluten free options. The menu includes local favorites such as Kalua pig, poi, lomi salmon, and haupia. The Kalua pig is cooked in an underground oven, or imu, right before your eyes. Poi is a staple food made from steamed taro root that has been mashed into a smooth paste. Lomi salmon is a fresh salad made with diced tomatoes, onions, and chunks of fresh salmon that has been cured in salt and lime juice. Haupia is a coconut pudding that is often served for dessert. These are just some of the many delicious dishes you will enjoy at the Royal Kona Luau.
Royal Kona Luau – Luau Details
Tour Highlights
Stunning oceanviews overlooking Kailua Bay

Hawaiian lei greeting welcome

Island arts & crafts presentations and hula lessons

Traditional imu ceremony where the kalua pua'a (roast pig) is removed from the earthen oven
Enjoy a mai-tai, beer, wine, or soft drink at the open bar

Delicious all-you-care-to-eat buffet dinner, including kalua pork, island chicken and soy-braised beef

Spectacular Polynesian show telling the story of the grand ocean voyage of the ancient Polynesians

Breathtaking Samoan Siva Afi fire dance finale
Tour Description
The luau of a lifetime awaits you at the Royal Kona Resort. Upon arrival, you will be greeted with a traditional Hawaiian lei. Enjoy cultural arts and craft presentations and hula lessons. Then watch as your food is cooked before your eyes in a traditional Imu Ceremony in which a whole pig is roasted underground and then brought to the feast for all to enjoy. Sip on a mai-tai, beer, or wine while you take in the stunning ocean views. Then enjoy an all-you-can-eat authentic Polynesian buffet. This is truly a luau not to be missed!
Price & Availability
Royal Kona Luau General Seating Package In Kailua-Kona
Adults (12 yrs+)

$

169.60
Children (6-11 yrs)

$

66.26
Young Children (0-5 yrs)
FREE
Every Monday, Tuesday, Wednesday, and Friday evening
4:30 pm: Check-in
5:00 – 8:00 pm: Luau
Menu
Lomi Lomi Salmon
Poi
Fish Poke
Hawaiian Potato Salad
Macaroni Salad
Pineapple
Waimea Greens
Three Bean Salad
Hawaiian Sweet Potatoes
Haupia
Koi Tomatoes with Maui Onions
Rainbow Jello
Charbroiled Pulehu Beef with Teriyaki Sauce
Turkey
Chicken Luau
Kalua Pig
Black Bean Mahi-Mahi
Assortment of Salads
Steamed White Rice
Coconut Rolls
Coconut or Pineapple Upside Down Cake
Open Bar
Cancellation Policy
We require at least 72 hours notice for cancellation before your tour or scheduled pick-up time to avoid a full charge penalty.
Activity & Event Itinerary
Gates open at 4:45 pm
Welcome lei greeting
Activities, crafts, and hula lessons
Imu Ceremony
Buffet
Luau show
Fire-knife dance
Farewell
Special Instructions
Children 5 and under are provided their own seat and plate
Parking is $3.00
Frequently Asked Questions
Does Booking In Advance Guarantee A Seat?

Yes! Your seat will be reserved and guaranteed.

What Days Does The Show Operate?

Mon, Tues, Wed, Fri

How Long Does The Show Last?

About 3 hours

What Is Included In The Royal Kona Luau Experience?

The Royal Kona Luau includes a traditional Hawaiian lei, cultural arts and craft presentations, hula lessons, an Imu Ceremony with a whole roast pig, mai-tais, beer, and wine (optional), and an all-you-can-eat Polynesian buffet.

Are Alcoholic Beverages Served At The Royal Kona Luau?

Yes! Mai tais, beer, and wine are available for those 21 or older with valid ID.