Big Island ATV Waterfall
&

Rainforest Adventure
R ide from 250ft. above sea level to 2500 ft. in elevation through the Big Island's oldest Rainforest . Ride under canopies of trees with scenic flora and fauna. This ATV tourtakes you to see two ofHawaii's most beautiful waterfalls . One of which, includes a serene short hike to an 80 foot private, secluded waterfall. If weather and water conditions are permitting, we allow guests to take a swim! Refreshments are provided while the history is shared from our knowledgeable guides.
Big Island ATV Tour – Waterfall and Rainforest Adventure Details
Tour Highlights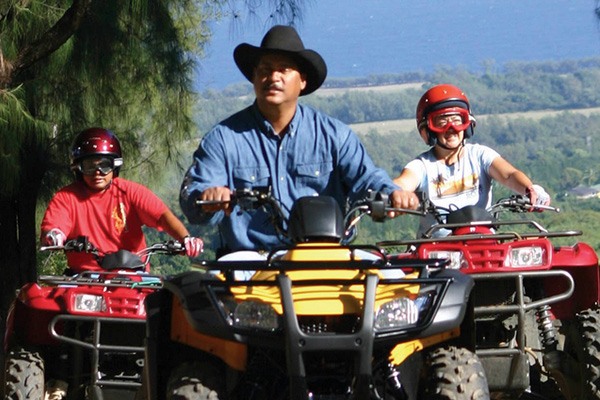 Prices
| | |
| --- | --- |
| Driver | $189.00 |
| Passenger | $130.00 |
Rules
No passing, no stunts, no reckless maneuvers.
Stay on the trail at all times -All riders must pass the practice course.
Our tours are incredibly scenic and historical; this is NOT a wild ride.
Transportation
Please note we do not pick up for this tour, you will need to drive to our meeting location at ATV Outfitters on Akoni Pule Hwy. Kapaau. HI 96755.  
Beautiful scenery, well worth the drive and located just 50 miles north of Kona International Airport.  Once you book your tour we will send you the address and meet time.
Special Instructions
Names, heights and weights, and age (if under 18 years old) REQUIRED no later than 48 hours prior to the tour. Children ages 5-15 years old are able to participate as a passenger. Restrictions apply.
A parent or legal guardian (with letter) must accompany anyone under the age of 18 years old. Single Rider ATV: Driver must be at least 16 years of age and 4'10''. Maximum weight is 300 lbs. Ages 16-18 years old are required to provide identification showing date of birth at time of check in. If unable to provide ID at that time, they will not be able to drive their own ATV and there will be no adjustment to charges.
Two Passenger Tandem ATV: Driver must be at least 25 years of age. Passenger must be at least 12 years old, 5' tall, and have a minimum weight of 85 lbs. Passengers weight cannot exceed the weight of the driver. Maximum combined weight is 350 lbs.
Two Passenger Side by Side ATV: Driver must be at least 25 years of age and 5'4". Maximum combined weight is 500 lbs. Passenger must be at least 5 years old and have a minimum weight of 45 lbs.
Shirt, long pants (no capris or shorts) and shoes/ sneakers are mandatory. Helmets, goggles and gloves are provided (mandatory). *We are unable to accommodate expectant mothers, people who have had recent surgery or have chronic back and or neck problems.
Big Island ATV Tour – Waterfall and Rainforest Adventure Features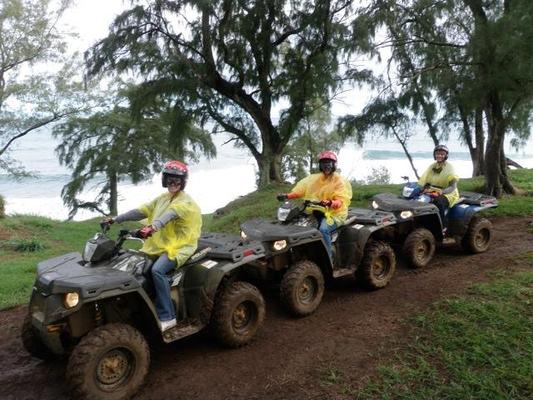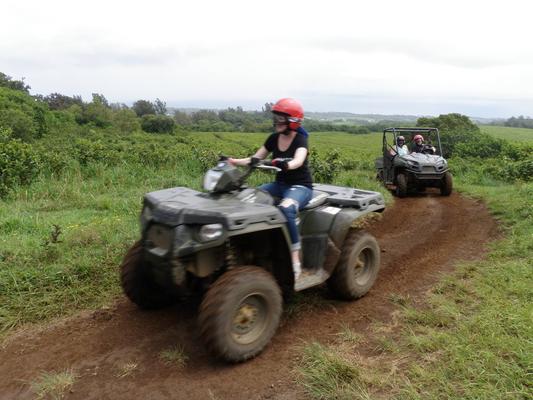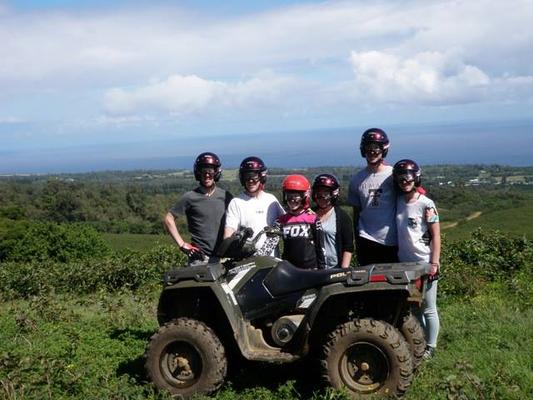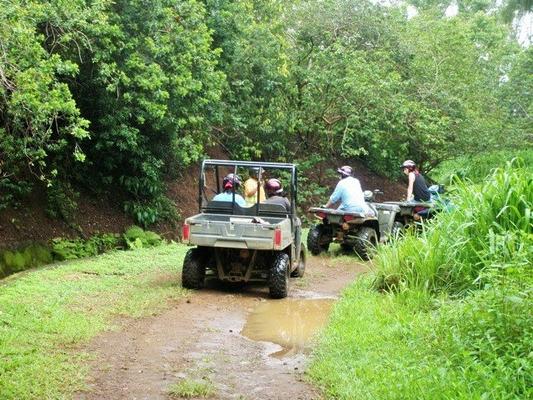 When you close your eyes and dream of Hawaii, what do you see? For many people, the image of paradise comes in the form of a hidden waterfall cradled in a tropical rainforest. This splendor really does exist, and you can experience it on our 15-mile waterfall adventure!
Beginning the journey at about 250 feet above sea level and traveling to the 2500 foot elevation, you enter the rarified air of the oldest rainforest on the Big Island. We ride under canopies of trees, lanes of wild ginger patches, and cross several mountain streams. Some of the exotic plants found in our rainforest are not found anywhere else in world. We visit a beautiful waterfall, and short hike to the foot of the refreshing pond below.
Frequently Asked Questions