Kayak
&

Swim in the Umauma River
Kayak, stand up paddle, or swim in the refreshing waters of the Umauma River. Spend 3 hours at this private location splashing with friends before enjoying a catered picnic lunch under the pavilion. Take in the natural beauty of this secluded destination and share laughs with friends as you splash around in the calm river water. There is no better place to try your hand at kayaking or stand up paddling. With all the gear you need ready to go, a quick paddle is just moments away!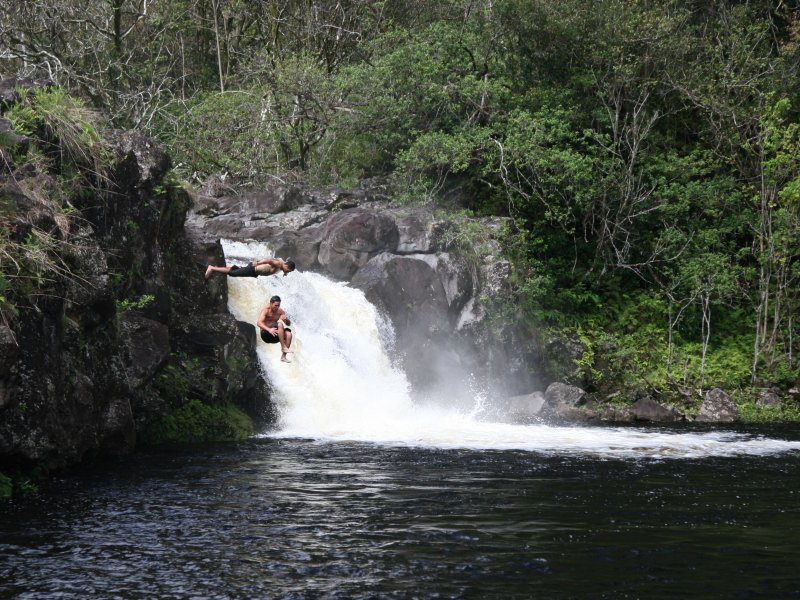 People of all ages will enjoy the tranquility of this secluded location and couples can spend meaningful quality time swimming, kayaking, and SUPing together. After a few hours of outdoor river fun, it is time to head back, with a heart full of memories!
Kayak
&

Swim in the Umauma River Tour Features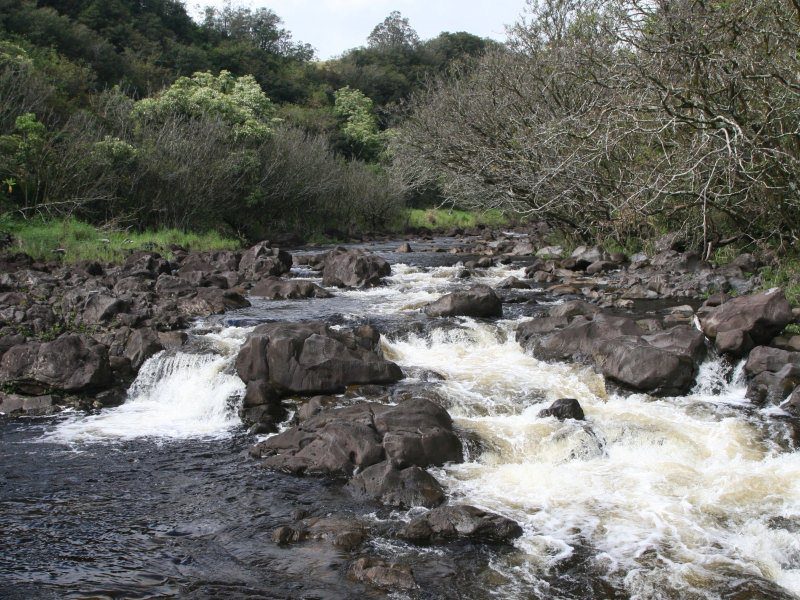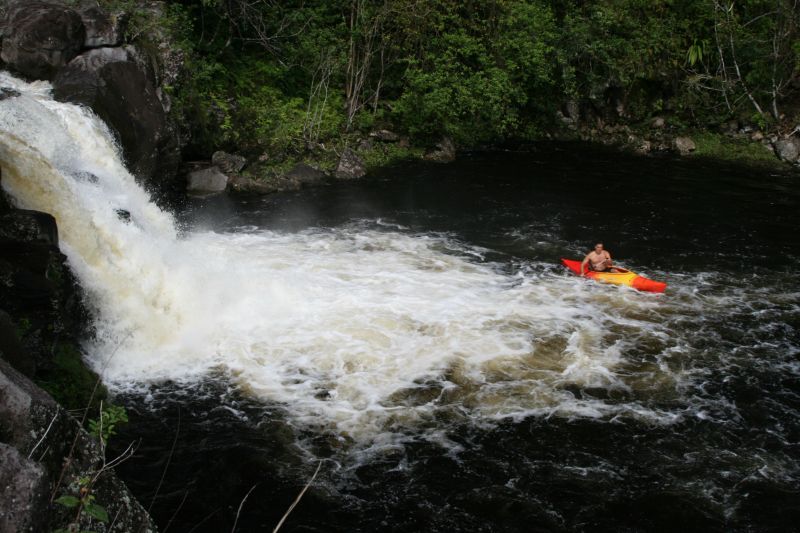 Kayak, Swim
&

Stand Up Paddle in the River
With stand up paddle boards and kayaks at the ready, hop on a watercraft and paddle in the serene waters of the river's lagoon. Cool off with a swim in the river's freshwater.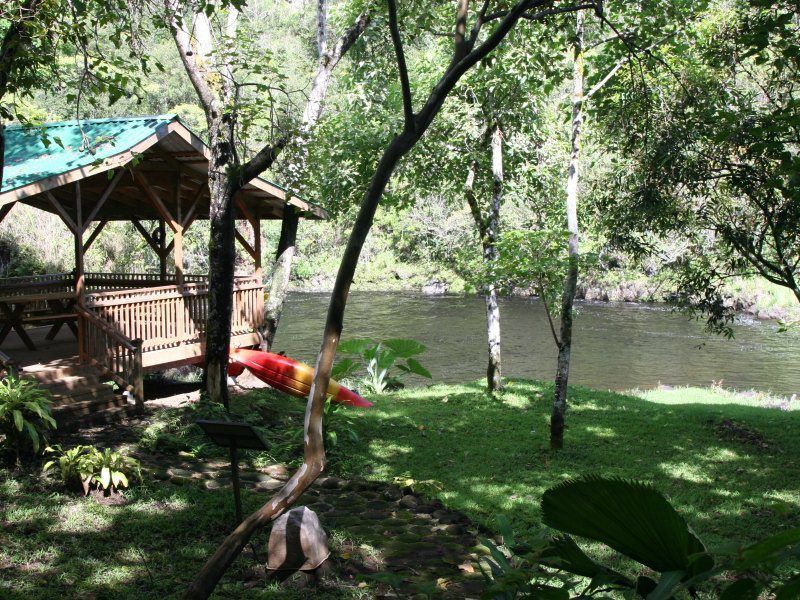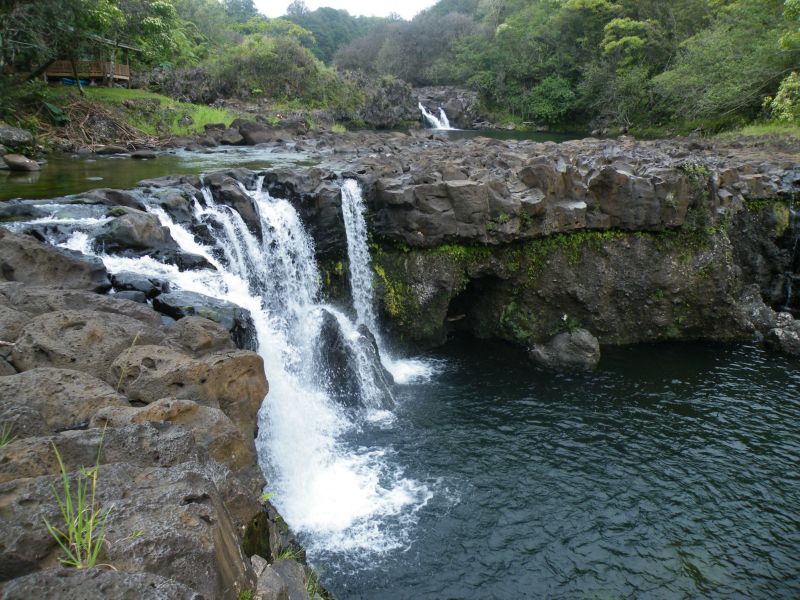 After lots of fun and splashing around, a catered picnic under the covered pavilion will be well-earned! Chow down on some delicious bites right there by the river's edge.
Kayak
&

Swim in the Umauma River Tour Details
Tour Highlights
Private River Recreation Area

Activities include SUPing, Kayaking, and Swimming

Catered Picnic Meal Served
SUP and Kayak Equipment Included

All Ages Welcome

Location Featured on ABC's hit TV show "The Bachelorette"
Tour Description
Play in the gentle waters of the Umauma River. Choose to kayak, stand up paddle, or swim in the refreshing waters of the river against a backdrop of unrivaled tropical beauty. Can't choose just one fun activity? You don't have to! With a few hours of time spent on the banks and in the water, you will have ample time to try it all! Hop in a boat and kayak around, swim from bank to bank, or grab a paddle and hop on a stand up paddleboard! Take a break at the water's edge, breathing in the fresh tropical air and listening to the birds chirp. Then dry off and fill up on a riverside catered lunch served at a quaint, shaded pavilion. Go back for more water time, or simply bask in the beauty and slow pace the countryside has to offer.
Families and friends of all ages will enjoy the serenity of this pristine, untouched, remote location. This is the ideal place to share quality time and lots of smiles with the ones you love, completely uninterrupted. The secluded river spot is great for couples looking for a romantic destination to explore together. This slice of paradise was even featured on the hit TV show "The Bachelorette"! Paddle, swim, lunch, and laugh together, rekindling old flames or sparking new love. Guests of all ages will be smiling all day after spending an afternoon here.
Your river experience ends in the afternoon, after 3 leisurely hours filled with swimming, paddling, and making memories.
Price & Availability
Big Island of Hawaii
Adult (11yrs+)

$

75.00
Child (4-10yrs)

$

70.00
Available Daily. Check-in At 11:15 AM at The Umauma Visitor Center.
Total Tour Time Is 2.75 Hours (2.25 Hours At The River).
Sample Itinerary
Afternoon Tour – 11:45 AM to 1:30 PM – 2.75-hour tour
11:45 AM – Check In
12:00 PM – 1:15 PM – Kayak, Swim, SUP & Lunch
1:30 PM – Return to The Umauma Visitor Center
Meals
Enjoy a catered outdoor picnic served at the riverside pavilion.
Cancellation Policy
A full refund is available up to 72-hours prior to your tour starting (at 11:45 AM). After that time, there will be no refunds for no-shows.
Special Instructions
Please check in 45 minutes prior to your noon tour.
Children under 15 years old must be accompanied by a parent or guardian.
Frequently Asked Questions
No MM FAQ found which match your selection.