Road To Hana Tour From Oahu
This day-long guided tour offers an extraordinary view of the native beauty of Maui, encompassing approximately 57 miles of its most illustrious and picturesque vistas. Highlights include the sandy rugged Hookipa Beach, impressive for its rocky shoreline and powerful currents. Here, the churning surf attracts those with a competitive spirit, while less-than-expert swimmers can find respite in its 1/8-mile coral reef.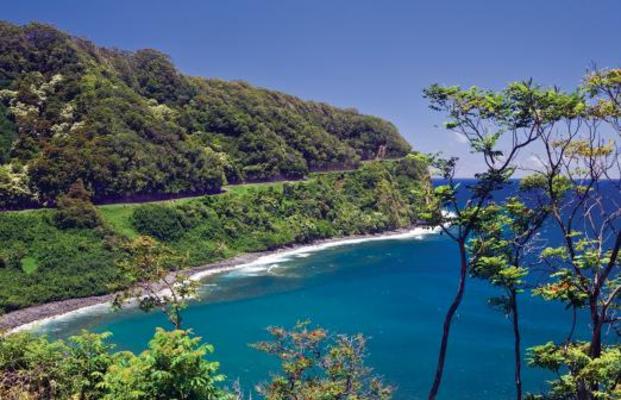 On the way to Waianapanapa State Park, visitors will delight in Keanae Lookout's attractive vistas and the 20-foot Puahokamoa Falls just off the Hana Highway. At Waianapanapa, the Hohokalani Black Sand Beach is amazing. The black sand is actually lava pebbles and it's surrounding lava cliffs provide a shelter for sea caves and arches near the beach. The road of the tour will take you to small, lovely Hana, and it is a fantastic drive winding its way through waterfalls, coastal vistas and parks. West of Hana, the exotic lush foliage of Kaumahina State park exhibits 7.8 acres of scenic beauty and extraordinary views of the Maui coastline and Ke'anae Peninsula.
Road To Hana Maui Day Tour From Oahu Features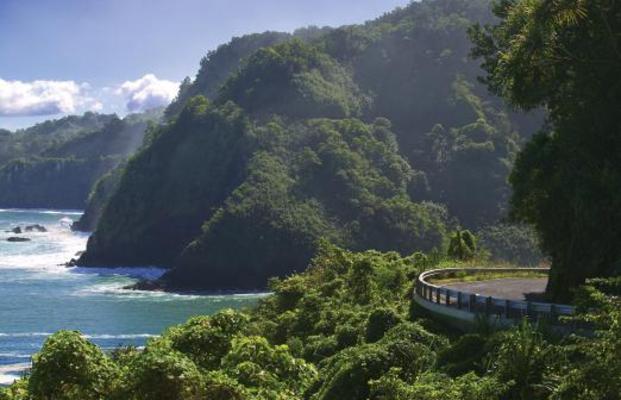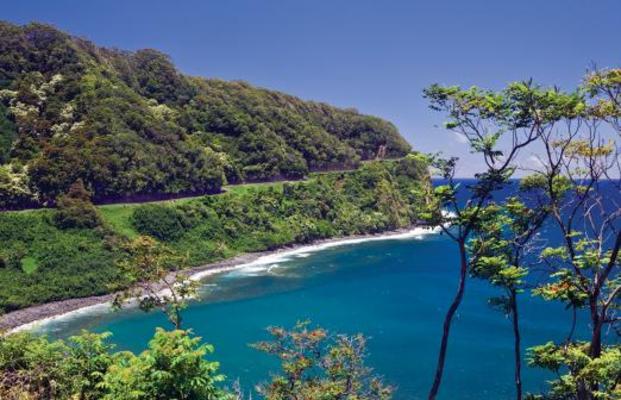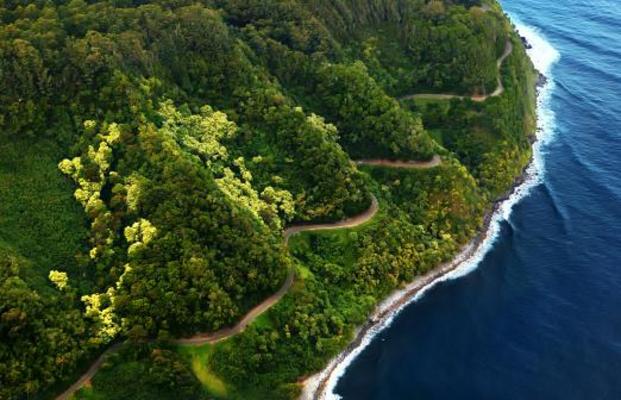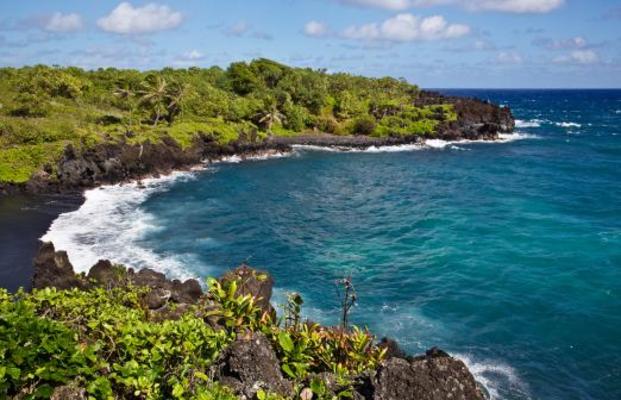 Near Hamoa Beach is the Seven Sacred Pools (Kipahulu), their waters rushing gracefully from one pool to the next on their journey to the ocean. Your tour may include beautiful Wailua Falls, featured in the Fantasy Island television series, an 83-foot waterfall plunging into lush pools feeding the Walua River below. These falls were used in ancient times by natives who proved their manhood by leaping to the waters below.
Road To Hana From Oahu Details
Highlights
Flights From Oahu To Maui

Hookipa Beach Look-out

Kaumahina State Wayside Park

Waikani Falls

Keanae Look-out & Peninsula

Waianapanapa State Park
Heavenly Hana Town

Pools of Oheo

Wailua Falls (Maui)

Breakfast & Picnic Included

Small Group Tours
Tour Description
Start your day with a pickup at your Waikiki hotel first thing in the morning that will take you to the airport for your flight to Maui. In Maui, you will have a driver waiting to take you to the breakfast location where you will meet your guide for the day.
After enjoying a continental breakfast you will hit the road in our small group tours that carry a maximum of 12 passengers in comfort and style. We explore various areas along the road to Hana including a black sand beach, numerous waterfalls, painted eucalyptus trees, coastal overlooks and so much more. We make stops for a picnic lunch and weather permitting a swim in a waterfall pool in Haleakala National park.
We circle the entire Haleakala mountain, going around the backside of Maui where rental cars canʻt go. The windswept backside is full of incredible views and lots of history and culture that your guide will tell you stories about.
The tour on Maui ends with returning you to the airport to catch a flight back to Oahu after a full 11 hours of touring with over 4 hours of stops throughout the day.
Price & Availability
| | |
| --- | --- |
| Adult | $500.00 |
| Child (4 yrs – 11 yrs) | $500.00 |
| Child (3 yrs and under) | Free |
Tour is available 360 days a year.

Sample Itinerary
| | |
| --- | --- |
| 5:00am-5:30am | Pick-up from Waikiki hotels |
| 7:30am-6:30pm | Road To Hana Tour |
| 7:30pm-8:30pm | Oahu return time approx |
Special Instructions
Please inform us of special dietary requests 48 hours in advance or at checkout in the notes.
Moderate walking, please wear comfortable walking shoes and dress appropriately. You may wish to bring a light jacket as it gets cooler upcountry. The ride to Hana may be rough as there are stretches of uneven surfaces. Locations/Routes may be modified due to national and state park advisories.
All guests must bring a valid ID for airport security check-in. International guests must bring a valid passport for airport security check-in. Children under 2 years of age are considered FREE if child is on lap and does not occupy a seat. Please let us know in the comment section when booking.
All One-Day Tours are subject to availability, change without notice, and include round-trip transfers from Waikiki hotels and round-trip airfare to the destination island.
Cancellation Policy
There is a $100 change fee per person if you are changing flight or dates after they have been booked. There are no refunds for flights. There is a 50% cancellation fee on all tours with flights and no refunds within the 48 hours prior to the tour start.
Frequently Asked Questions
No MM FAQ found which match your selection.