Have The Trail To Yourself!
North Shore, Oahu, Hawaii
Private North Shore Horseback Ride Features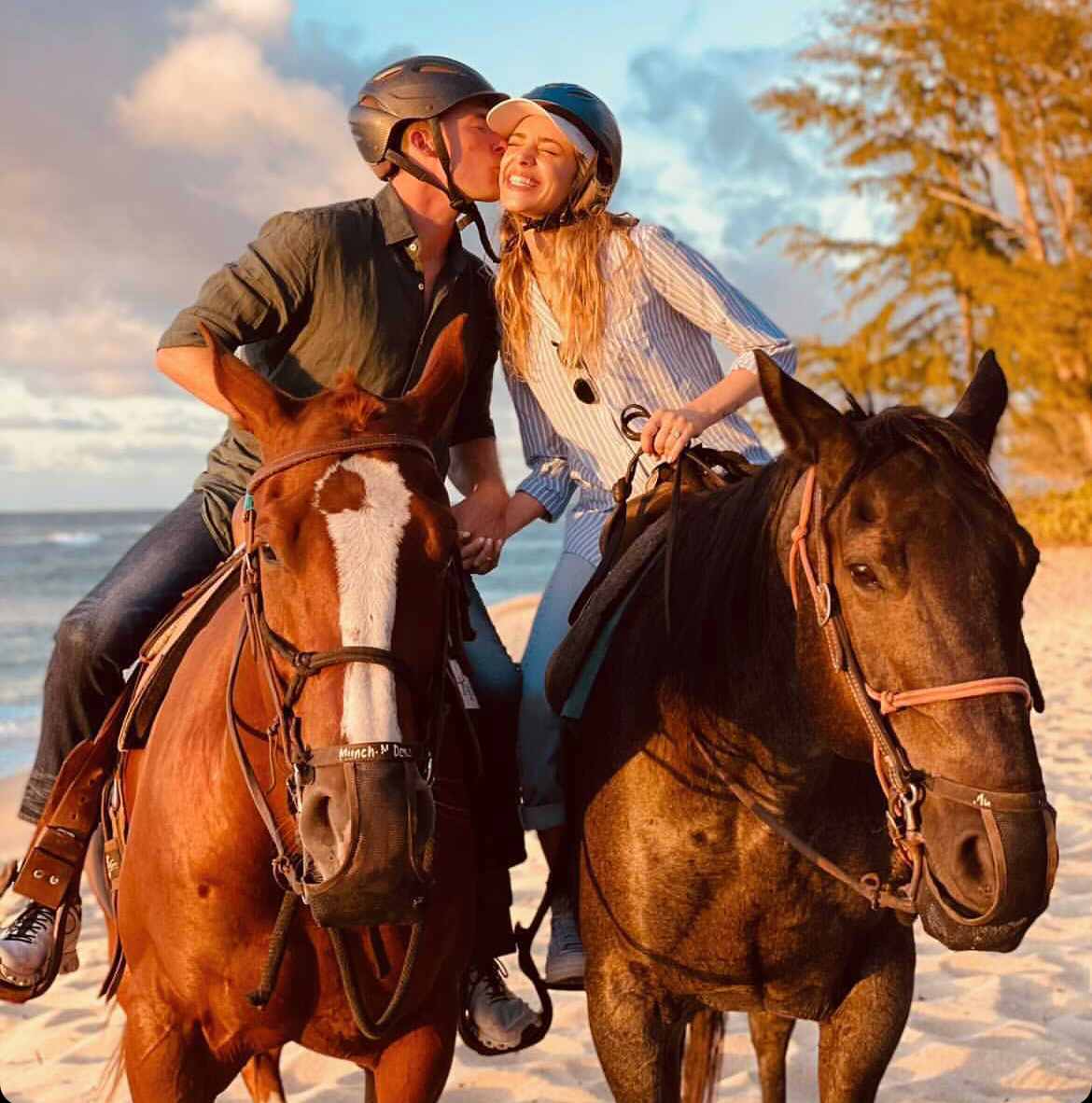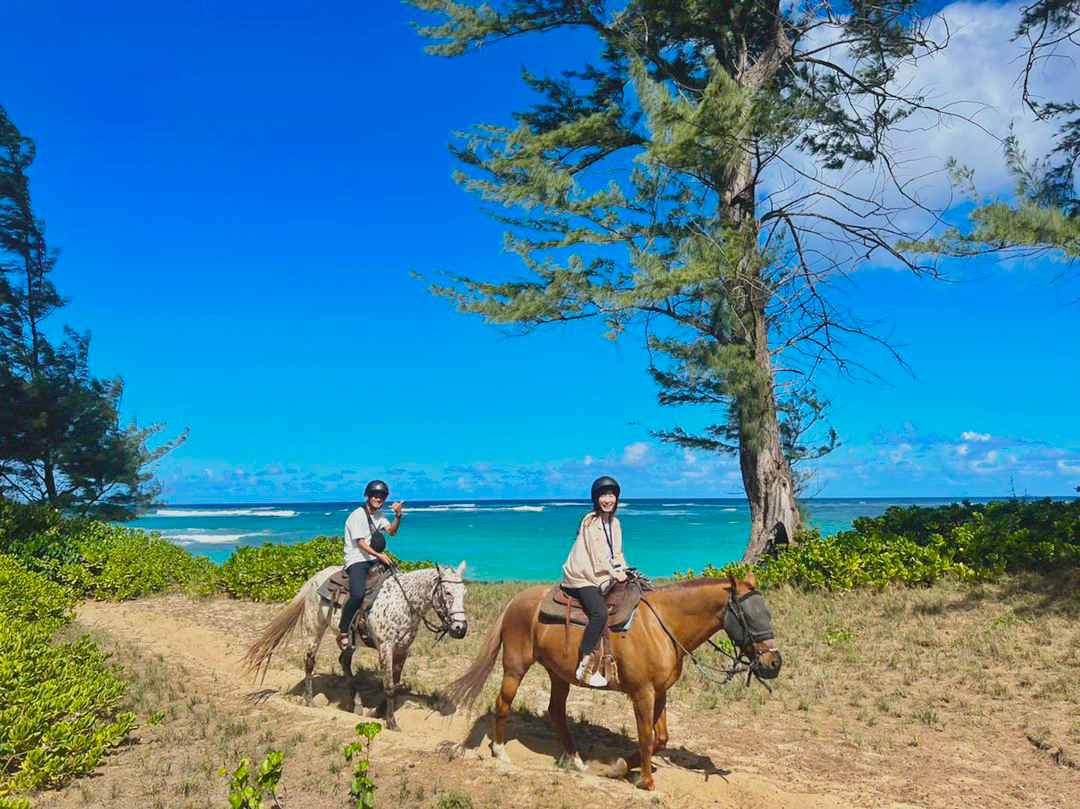 Taking a private horseback riding tour on Oahu's North Shore is an unforgettable experience. With exclusive access to three unique ride times, you can explore the breathtaking landscape without having to share it with anyone else. Our experienced and friendly horses will take you along the shoreline where you can take in the beautiful scenery and watch surfers ride waves in the distance. Our flexible time slots ensure that you can choose a time that works best for your party, so you can relax and enjoy the beautiful views without any distractions. Whether you're looking for a romantic experience, celebrating a special occasion, or simply seeking to unwind with friends, our private North Shore Horseback Ride has something special to offer everyone.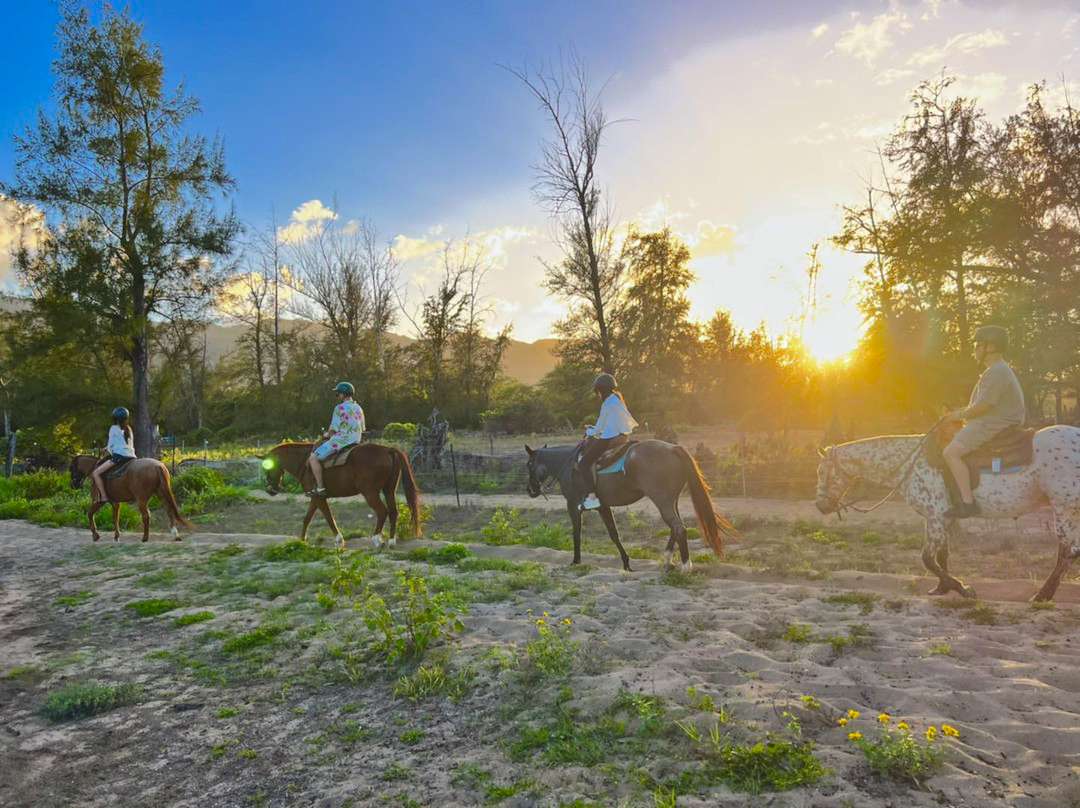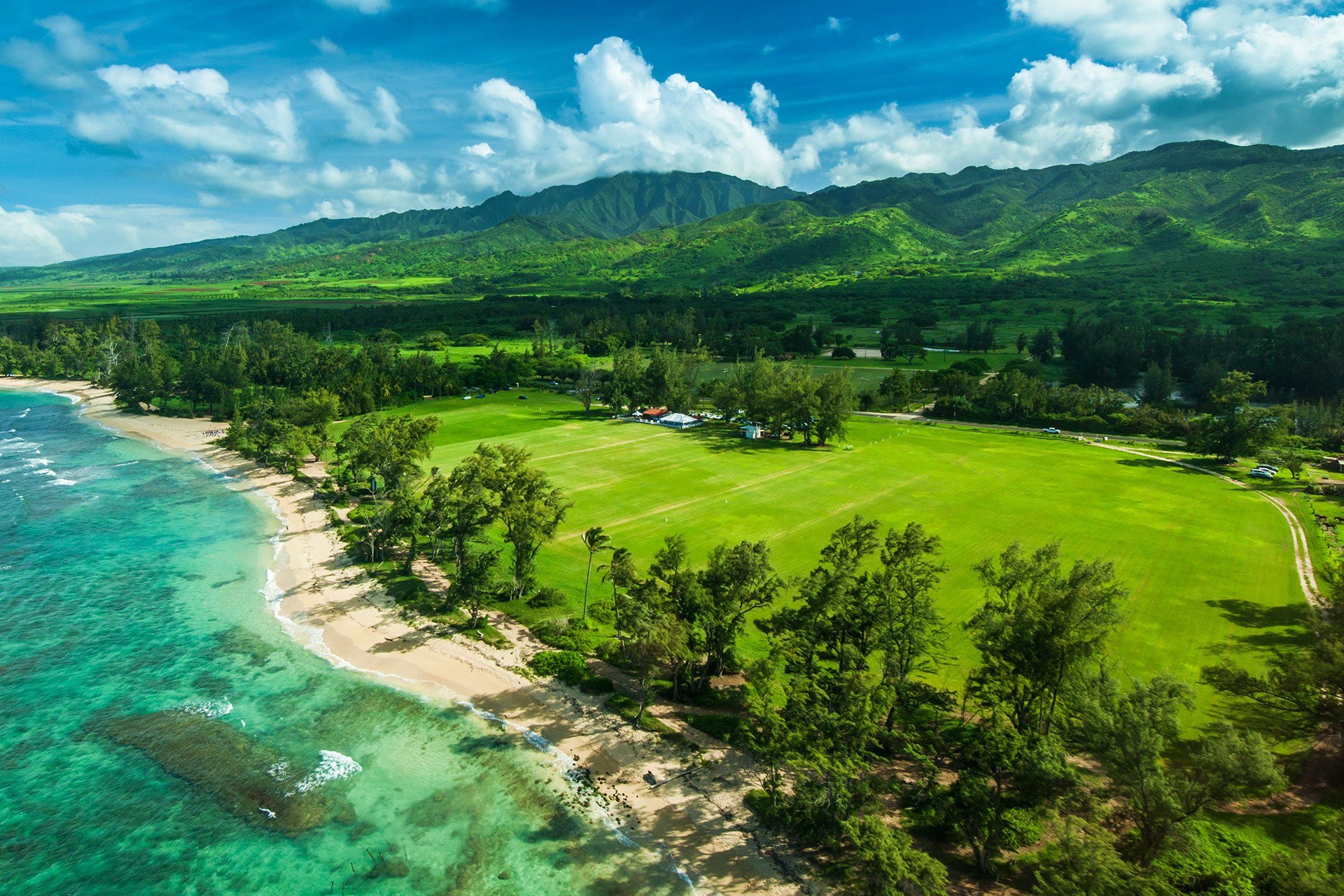 Horses are an important part of Hawaiian culture and have been used for centuries in a variety of ways. From transportation to farming and hunting to herding livestock, horses have been an integral part of life on the islands since they were first brought over by Richard Cleveland in 1803. Today, horses continue to be used for recreational activities such as parades and rodeos that often feature traditional riding styles. Horses also remain present on many farms throughout Hawaii where they are still employed for agricultural purposes. In this way, horses remain deeply ingrained into Hawaiian culture today.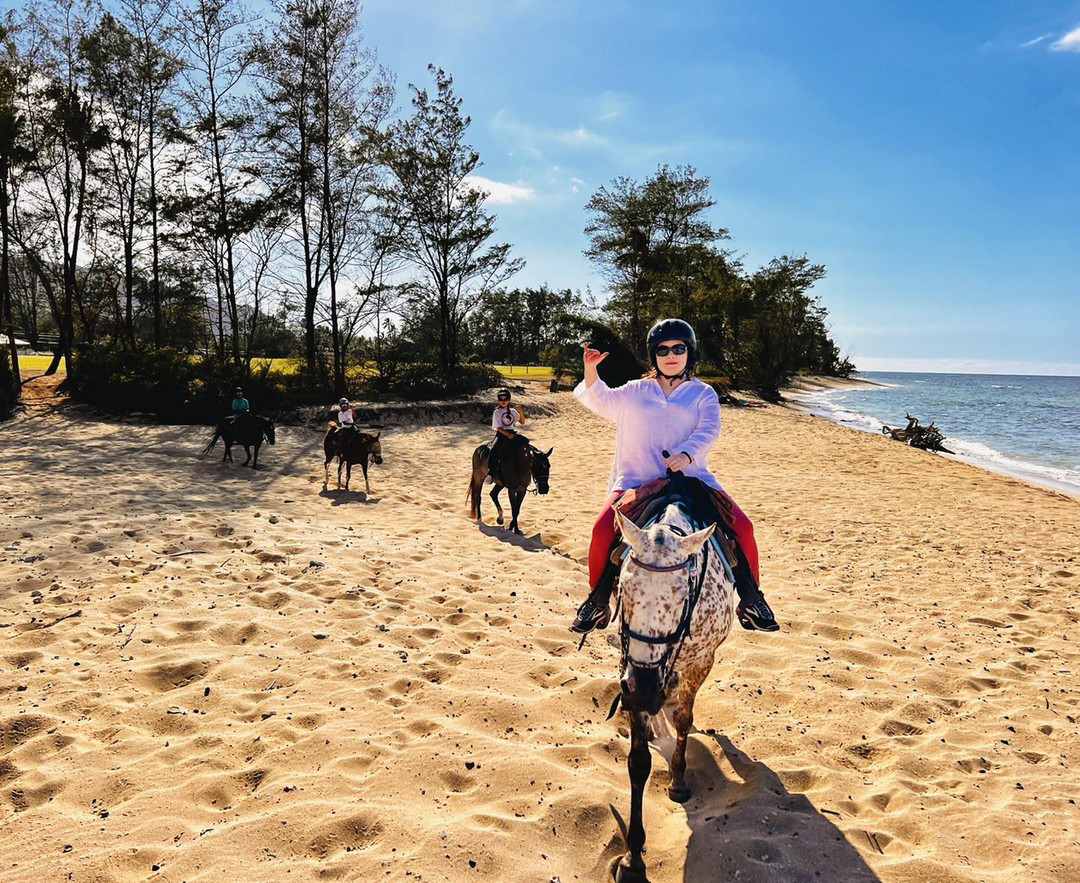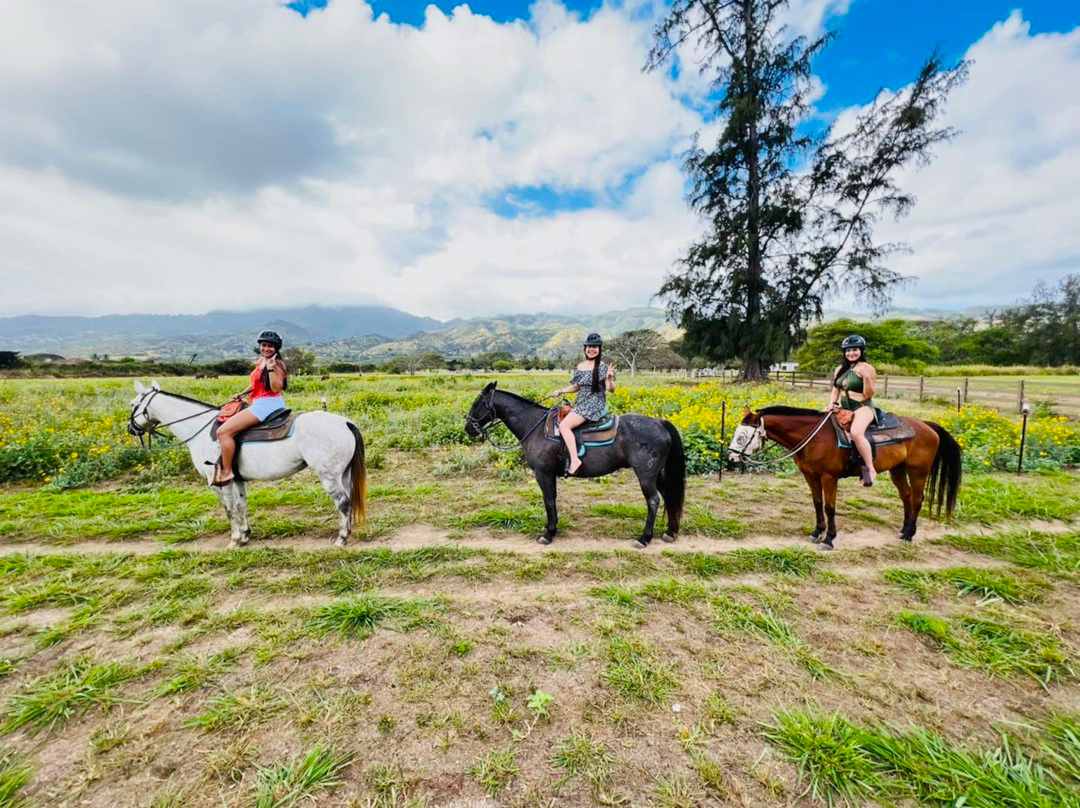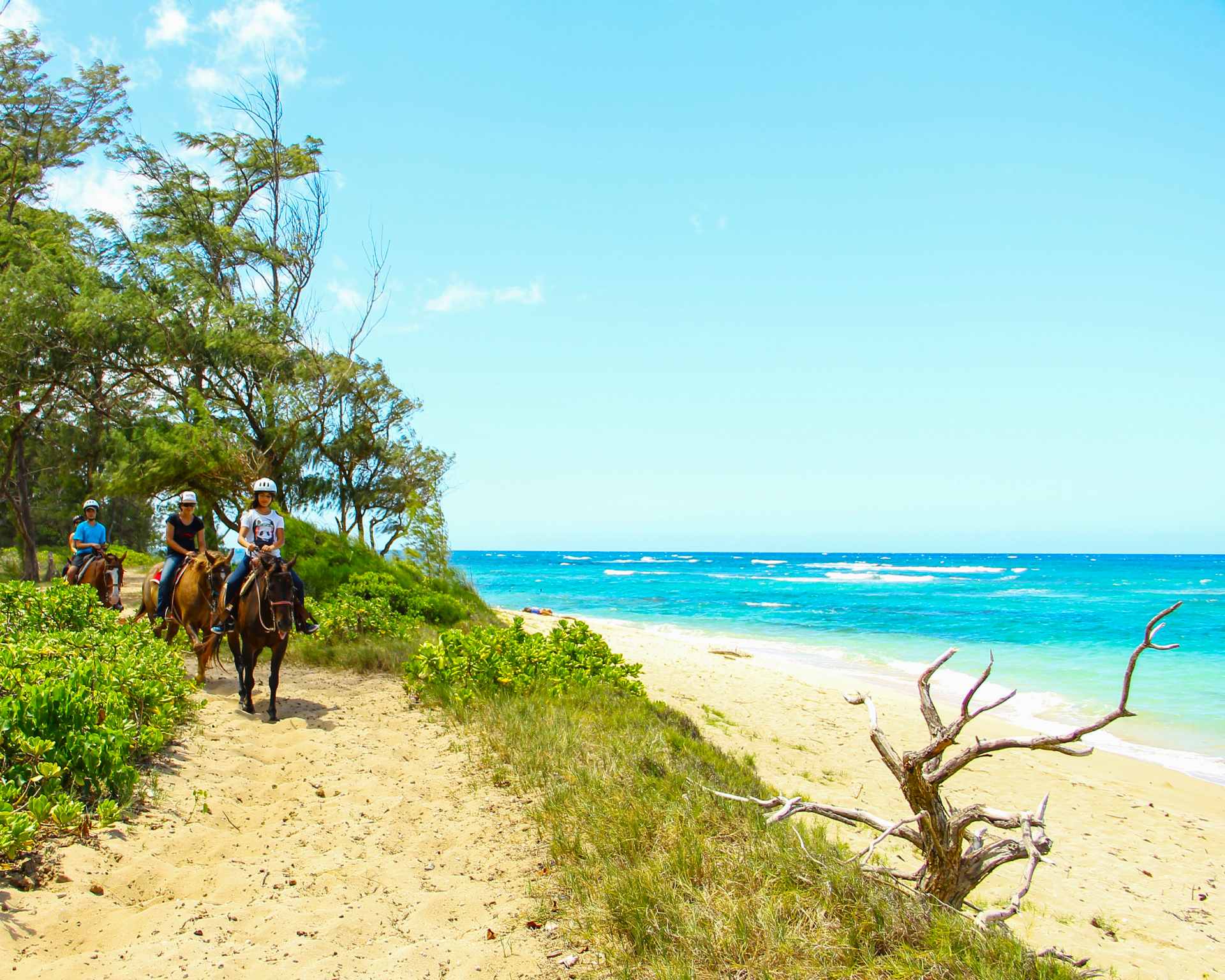 Oahu's North Shore is a stunning stretch of coastline, renowned for its beauty and variety of recreational activities. From snorkeling to surfing, there's something for everyone to enjoy in this slice of paradise. With majestic views all around and plenty of opportunities to explore nature, it's no wonder why so many people flock to this part of the island each year. Whether you want a relaxing day at the beach or an adventurous exploration of nature from horseback, Oahu's North Shore has something special waiting just for you.
Private North Shore Horseback Ride Details
Tour Highlights
Enjoy a private ride with no distractions

Take advantage of flexible time slots

Beginner friendly

Explore Oahu's North Shore
Ride with experienced horses

Scan the shoreline and reef for turtles

Unwind and take in the beautiful scenery

Watch surfers ride waves in the distance
Tour Description
Our Private North Shore Horseback Ride is the perfect way to spend quality time with your special someone, family, or both. Offering three different ride times, we provide a unique chance to explore the beauty of Oahu's iconic coastline without having to share it with anyone else. Our experienced horses will take you on a journey through the stunning landscape where you can watch for turtles and surfers riding the waves in the distance. Whether you're a couple seeking to kindle their romance, family members looking to connect, or simply seeking a more personal experience – this tour has something for everyone. Enjoy the exclusivity and romance of your own private group and explore the beauty and tranquility that awaits along Oahu's shoreline.
Price & Availability
Tours are available daily.
Private North Shore Horseback Ride
Group of 2 Private Ride

$

316.00
Group of 3 Private Ride

$

474.00
Group of 4 Private Ride

$

631.99
Group of 5 Private Ride

$

790.00
Group of 6 Private Ride

$

948.00
Group of 7 Private Ride

$

1,105.99
Group of 8 Private Ride

$

1,263.99
What's Included
An exclusive and private experience.
Trained, beginner-friendly horses.
1.5-hour horseback ride.
Departure & Return
Please arrive 30 minutes prior to the tour to check in.
Multiple tour start times are available between 9 am – 3 pm.
Cancellation Policy
Any request for a refund 72 hours or more prior to the start of the tour or activity is honored with a full refund.
No refunds are issued for any cancellations inside the 72-hour period, prior to the start of your tour. There is no refund for no-shows. There is no charge for date change or tour change based on tour availability outside of the 72-hour cancellation period.
Frequently Asked Questions
What are the time slots available for private tours?

11 am, 1 pm, and 3 pm.

Will we get to ride on the beach?

Absolutely! The trails we use go right onto the beach in many places.

Are there any age restrictions?

Yes. Guests must be at least 8 years old to participate.