Enjoy An Adventuresome Day On Maui's Most Famous Highway
The Road to Hana is by far one of Maui's most well known attractions, and no trip to the island is complete without a trip down this picturesque coastal highway. The fact that the road consists of 620 curves and 59 single lane bridges, along with occasional threat of dangerous weather conditions can make even the most skilled driver a little nervous. On this deluxe guided tour you can let someone else do the driving while you take in views of waterfalls, massive bamboo forests and some of Maui's best kept secrets.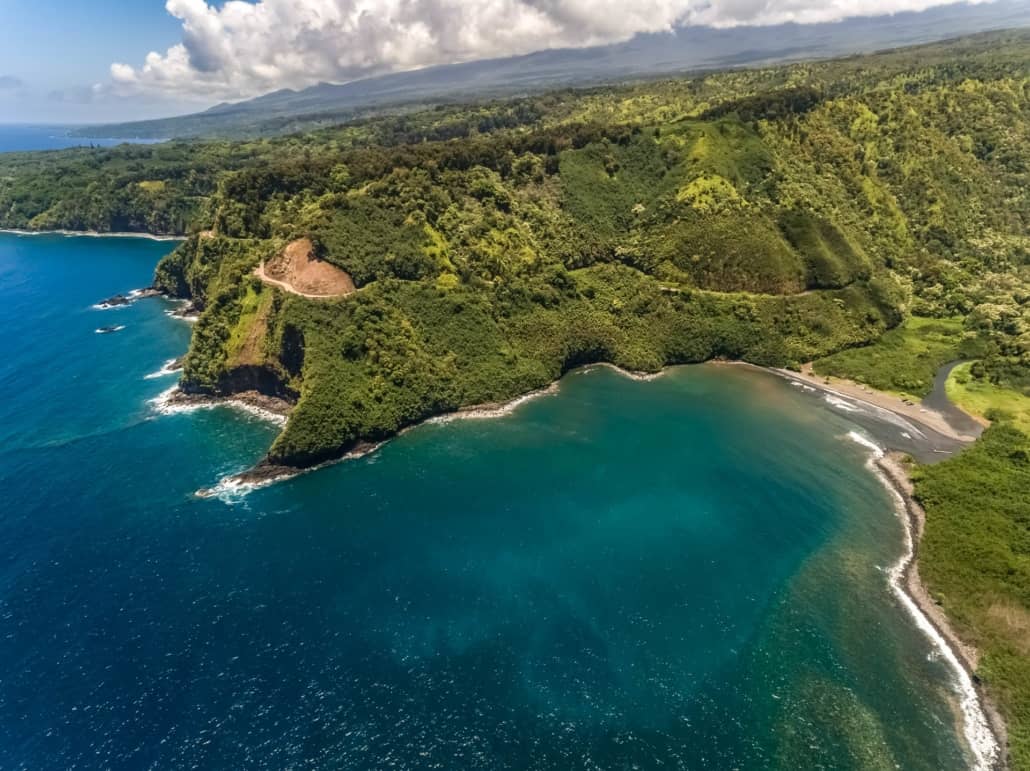 Let our local Hana Highway experts (professional tour/drivers) do all the driving for you as you sit back, relax and enjoy the spectacular views. Our Tour/Drivers will entertain you with fun stories as well as share with you interesting historical facts as well as educate you with Hawaiian legends and culture in this once in a lifetime adventure to discover the best of Maui!
Large Group Road To Hana Tour Details
Highlights
Vehicle pickup from your hotel

Catch glimpses of famous waterfalls
Enjoy incredible coastal views

Lunch at Hana Farms
Tour Description
The Road to Hana is definitely a full day adventure, which is why this tour kicks off with a 7am pickup from your hotel in a comfortable, air conditioned minibus. Keep in mind that pickup times may fluctuate depending on how many guests are embarking on the tour. Before getting started on the highway you will be able to enjoy a continental breakfast consisting of fresh fruit, pastries, coffee, tea, and juice. Following the Hana Highway will take you through the colorful surf town of Paia, which is held in high regard as the windsurfing capital of the world. Past Paia, you will notice the scenery change dramatically into dense jungle, and it is here that your driver will stop so that you can take in views of the coastline from Kaumahina State Park. Next up is Upper Waikani Falls, or as it's known locally "Three Bears Falls" because of the three 70 foot waterfalls that fall parallel to each other down the cliffside.
Ke'anae Peninsula will allow you to get close to the water and see the relationship between volcanic rocks and the surging ocean. Enjoy exploring the tide pools and thundering ocean waves that this peninsula is known for. The next stop on the tour, as long as weather conditions permit, will allow you to actually swim in the cold and refreshing waterfall pools at Pua'a Ka'a State Park. The black sand beach at Wai'anapanapa State Park is by far one of the most famous stops on the tour, and when you see it in person you will understand why. The stark black sand made up of crushed volcanic rocks contrasts unbelievably with the turquoise water. As the tour continues you will be taken to Hana Farms for lunch. This farm is a favorite supplier for local restaurants because the tropical fruits, vegetables, and herbs grown in the fertile East Maui soil offer superior flavors found nowhere else on the island. The tour concludes with your arrival in the town of Hana. This secluded town has been a haven for the Native Hawaiian people as well as those who wish to live off the land and have a deeper relationship with the island. Return time to your hotel is expected to be around 6:30pm.
Price & Availability
Large Group Hana Tour With Lunch
Adult

Age 12yrs+

$

214.00
Child

Age 3-11yrs

$

139.00