Be Reef Safe Member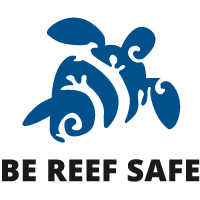 Address
55-541 Naniloa Loop, Laie, HI 96762
Be Reef Safe's top priority is to protect the decline of coral reefs on a global scale. Their mission is to have an ocean of healthy, thriving coral reefs that are supported by a global network of consumers, businesses, nonprofits, scientists, government agencies and educators.
Be Reef Safe strives to reduce the environmental impact by connecting consumers to environmentally conscious resources and activities by empowering individuals to choose eco-friendly personal care products, and make lifestyle choices that support ecotourism.
These Hawaii companies have made it their goal to help protect the reefs by using only reef-safe sunscreen, informing guests of the fragility of the coral, and educating guests about proper marine life interaction. The program was set up to help improve the quality of our marine life from turtles to sharks.
Look for the logo Be Reef Safe. You'll be making a planet-friendly difference.