Kayak Rental At Heiea State Park
Paddle and Snorkel beautiful Kane'ohe Bay with our two-person, Malibu open-face kayak rentals, and experience the magnificence of Kane'ohe Bay's pristine waters and diverse sea life on your own ADVENTURE! Our self-guided kayak adventure is truly a unique adventure.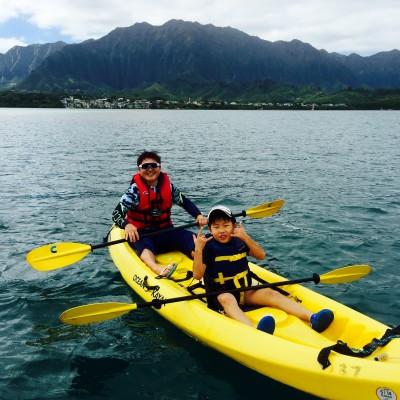 Our guests are provided a safety brief on Kane'ohe Bay, a detailed map on where to venture, and a kayaking orientation given by our trained and certified instructors. Our kayaks are located right at the water's edge! The Bay offers amazing snorkeling and kayaking; take advantage of the ONLY water-front kayak adventure in Kane'ohe Bay!
Kane'ohe Bay is protected by Oahu's only Barrier Reef which makes it a perfect place for sailors of all skill levels and sizes! Kane'ohe Bay is just located 30 minutes outside of Waikiki.
Highlights
Self-guided

Kayak and marine life briefing
Kaneohe Bay and Snorkel site briefing

Multiple snorkeling options in Kaneohe bay includes the Sandbar and countless reef systems.
Snorkel Sites
Coconut Island or better known as Gilligan's Island
SANDBAR
Key Hole
Numerous Patch Reef's
Price and Duration
Kaneohe Bay
Half Day Rentals

$

69.00
Full Day Rentals

$

89.00
Two Day Rentals

$

123.00
Three Day Rentals

$

146.00
Five Day Rentals

$

192.00
Seven Day Rentals

$

251.00
Total Yak Pak Single Half Day

$

89.00
Total Yak Pak Single Full Day

$

109.00
Available
Tuesday – Saturdays. 8:00 AM – 4:00 PM
Restrictions
No infants. Ages 3+. All participants must be able to fit at least a 30-50 pound life jacket.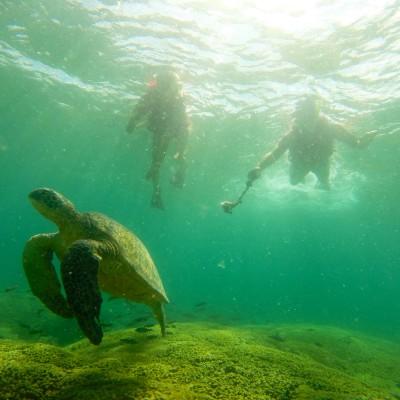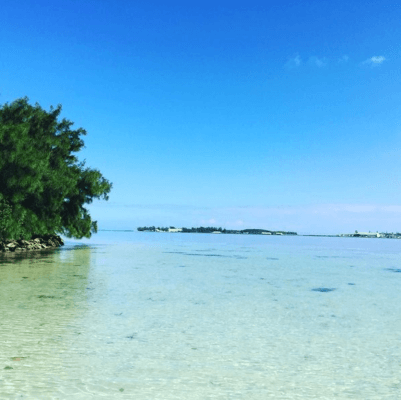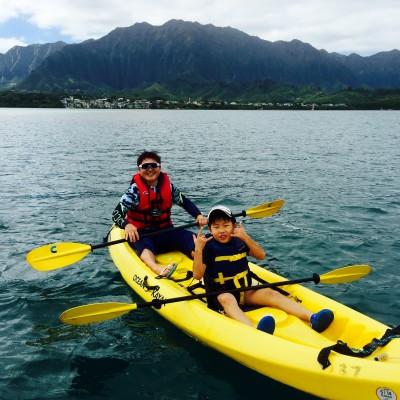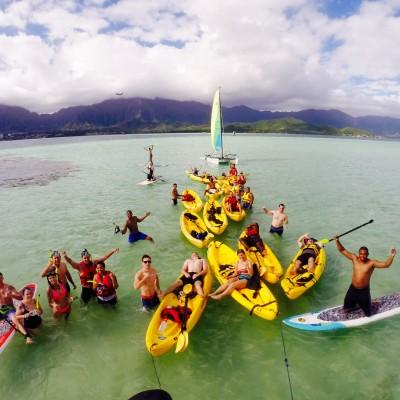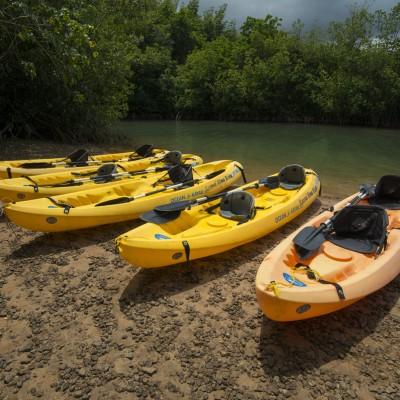 Self-Guided Kayaking Adventure
Kayaking to explore the secrets of Kane'ohe Bay is truly a treat. There are many incredible sites to explore and snorkel in the bay, including Coconut Island, the Kane'ohe Sandbar, Key Hole, or one of the many protected patch reef systems within the bay. We will provide you a safety briefing and kayaking orientation from our friendly, knowledgeable instructors, then send you off on your adventure with a detailed, waterproof map packed with exciting points of interest to visit! For ease, set off on your kayak straight from the water's edge.
Frequently Asked Questions
For how long can I rent the kayak?

4 hours, from 8:00 AM to 4:00 PM.

Where should I go while in the bay?

We will give you an orientation to the bay and also provide a waterproof map outlining the best sites to visit in Kaneohe Bay. Sites include:

Coconut Island, a.k.a. Gilligan's Island
Sunken Island, a.k.a. Kane'ohe Sandbar
Key Hole
Sunken City
Numerous patch reefs great for snorkeling

Is it safe to kayak in the bay?

Yes! Protected from open ocean currents and swells by its barrier reef, Kane'ohe Bay is easy to navigate for kayakers of all abilities and ages.  We will also provide information on safety and kayaking tips before you set off on the water!